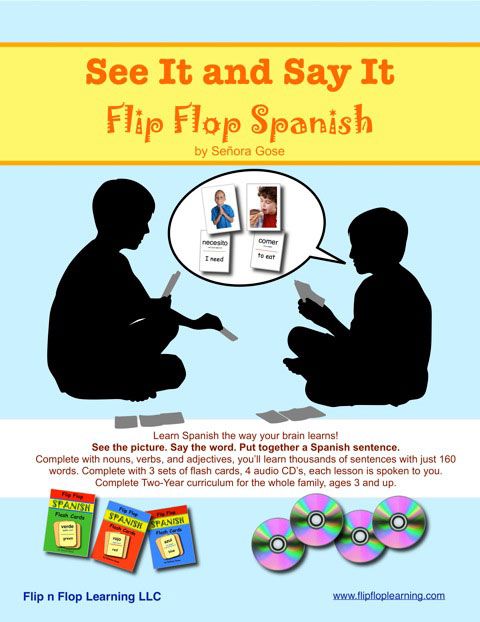 "
See it and Say it Flip Flop Spanish
teaches chunks of language that is immediately usable. For ages 3 to 93, every family member will enjoy moving the innovative photo flashcards around to construct their original sentences in Spanish."

A two-year curriculum complete with 3 sets of flash cards, a whiteboard paddle, and 4 audio CD's. Complete with games, charades, skits, audio, visual, and tactile learning, children and parents alike move quickly through the short CD tracks (about three per lesson) three times per week."
Cost: $99.95
The Bentz Test Laborartory is ever on the hunt for Spanish programs. I loved learning Spanish in school, and want my children to as well.
I'm pleased to introduce you to our new tool -
See it and Say it Flip Flop Spanish
! Finally, a Spanish program for ALL ages (including me - I'm under 93...)
See it and Say it Flip Flop Spanish
could not have been any easier to get started with. Just 3 easy steps -
assemble
a pre-printed, hole punched binder,
open
to lesson 1, and
play
the audio CD.
Each lesson is just 3 days. You pick - 3 days in row, or spread out over the week. This program works well with younger and older children.
The Spanish vocabulary is introduced with the audio, and with the full color picture cards. You get 3 decks of cards - color-coded and number by deck (rojo, verde, and azul) to make them easy to find. On the front of the card is a full color picture, on the back - is the Spanish word, phonetic spelling and the English translation. The cards were a hit - so much more fun than memorizing long lists of vocab! As the vocabulary is being learned... my tester would touch the card,
Flip
it over and
Flop
it down as they said the word in Spanish. FUN! Starting in Lesson 2 - we were adding cards that we created ourselves. The key is getting your child to interact with the cards.
Once we began to master some of vocabulary, we could create sentences and even play games. This is a perfect program for your hands on learners. We could use the cards in so many ways. We enjoyed making our own sentences. My testers would occasionally shuffle through the cards and leave me "notes" on our table. I have funny kids, huh...
Donde esta el helado? &
No me gust el brecol feo!

Grammer Notes to parents are included throughout the manual. These are some helpful information to help you understand Spanish grammar, and to pass it along to your students. You do not need to know Spanish yourself to enjoy teaching this subject to your family.


This program could easily be independent study for older children. We chose to do it together. The lessons are short, and easy to do. Older children can copy their sentence creations (from the cards) for practice writing Spanish. My testers loved the drawing sections as well.


The Dry Erase Paddle is another fun component included. Our favorite was a Pictionary-style game, where we would make teams and draw the vocab word from our deck, getting our team to guess it from our personal drawing. I think we may need a "flip flop art" program - drawing isn't our strong point, his word was "perro" - anybody tell what this is?


I think that
See it and Say it Flip Flop Spanish
is an excellent program. It's very affordable (2 years of multi-child learning for under $100) and easy to learn. If you are looking for a fun introduction to Spanish, that will make your children want to learn more - you will want to check it out!