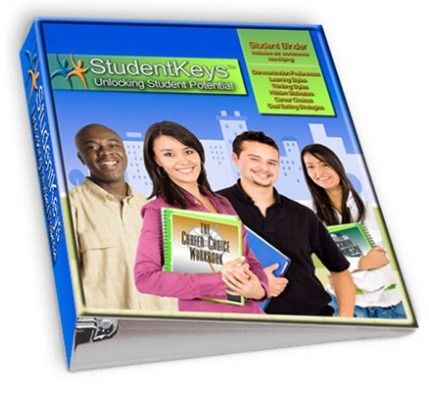 From their website:
"
The
Student Binder
by
PeopleKeys
is comprised of six short workbooks that each reveal a critical aspect of a student's self-concept.
The workbooks were designed to be a simple and practical way for students to become more familiar with their strengths and natural preferences in areas of personality, learning, thinking, motivation, career choice, and goal setting.
Their strongest preferences are then applied to real-life relating, thinking and learning experiences. This simple, yet profound program gives students a greater understanding of themselves so that they may be better prepared to make critical decisions and set realistic goals.
Each of these workbooks is a tool for personal development specifically geared to acclimate students to their social and learning environment, to increase retention and to raise GPA's by revealing students' unique learning and thinking styles."
StudentKeys Binder Includes:
The Personality Style Workbook
The Perceptual Learning Style Workbook
The Cognitive Thinking Style Workbook
The Values Style Workbook
The Career Choice Workbook
The Goal Setting Workbook
Cost - $49.00 (Individual workbooks are available for $13 each)
Bentz Test Laboratory was very excited to take a peek at the
StudentKeys Binder
! Since I have a degree in psychology, with a minor in sociology, this was right up my alley. (be warned - my disclaimer on my degree - just enough to make me dangerous, not enough to make me helpful...)
My high school student was selected as my tester. He was eager to jump in.
The StudentKeys Binder
contains 6 workbooks that walk you through discovering your Personality Style, Perceptual Learning Style, Cognitive Thinking, Values and Career Choices and even Goal Setting.
We were both hooked with the first assessment -
Personality Style
. Using the popular "DISC" inventory, he was surprised to see how accurate this quick test was. He then proceeded to test everyone in the family. We were all amazed to see ourselves so accurately reflected. The workbook then helped him understand the characteristics of his personality and how his style helps him approach tasks, communication and more.
A key to the workbook was taking the information gained, and applying it to building effective relationships. Valuable life skills learning!
Each of the workbooks explored another aspect. I think this was an eye-opener for him, and for me. So much valuable information can be gained from one binder! Every homeschool mom should investigate the
Perceptual Learning Styles
and
Cognitive Thinking Styles
workbooks. I gained precious insight into ways to improve learning for each of my varied learning styles, and my tester worked on designing his own learning evironment with the resources included. You do NOT want to miss this, it could be revolutionary - it was for Bentz Test Laboratory (and we still had 3 workbooks to discover!)
The
Values Style
,
Career Choices
and
Goal Setting
workbooks should all be
mandatory
high school reading, in my opinion. Discovering what they value (and how that enters into relationships), what careers are suited to their unique make-up, and the how-to of setting goals are fundamental skills to master BEFORE leaving home. Knowledge is power, and these easy-to-use workbooks will give your student plenty of power to succeed.
This is one of the most valuable tools we have ever reviewed. It's arranged logically, the information is presented in easy-to-understand terms (don't need that pysch degree to understand this...) and it's infinitely practical.
People Keys
offers additional products to help you as well: Be sure to check them out!
Children's Profile
,
Student Strengths Report
,
The Personality Style Report
,
DISC Career Style Report
,
The Perceptual Learning Style Workbook
,
The Cognitive Thinking Style Workbook
,
The Personality Style Workbook
,
The Values Style Workbook
.
Click to read more reviews from the Schoolhouse Review Crew


k