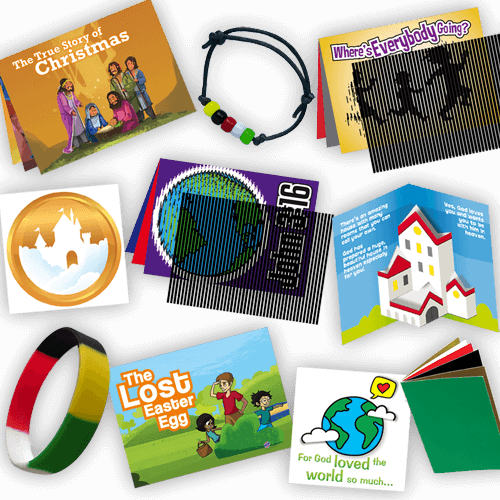 Gospel Tracts and Evangelism Tools Sampler Pack from Let the Little Children Come
I love discovering new ways to encourage my children to share the Gospel. Gospel Tracts and Evangelism Tools Sampler Pack from Let the Little Children Come is a wonderful tool!
This bright colored pack comes with 10 different ways to share:
John 3:16 Animated Tract
Gospel Buttons FlipAbout
The Most Amazing House Pop-up Tract
Wordless Bracelet Kit
The True Story of Christmas Animated Tract
The Lost Easter Egg Pop-up Tract
John 3:16 FlipAbout
Silicone Salvation Bracelet
Where's Everybody Going? Animated Tract
and Wordless Book
The tracts are fun and interactive - take a peek -
One of our favorites was the Animated tracts. It came with three different styles, and they all work the same way. A black screen is used to view the tract and make the images "move". These are fun, and attention grabbing!
Each of the tools in this sampler pack come with a page of instructions. I really like how they teach you exactly what to say while presenting the Gospel.






The FlipAbout books are another interactive tool your children can use. The sampler contains two different styles - one uses colored buttons to walk through the Gospel message, and the other illustrates John 3:16.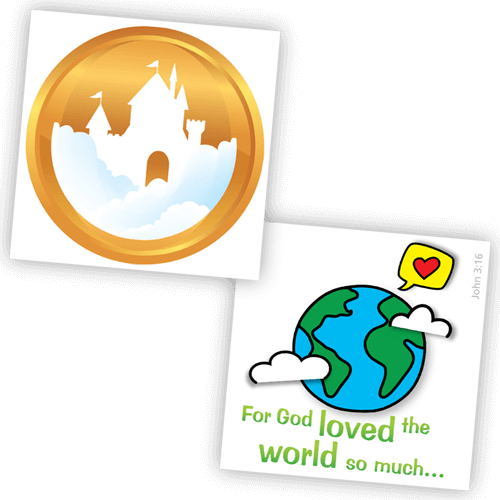 With just 4 easy folds, you present the entire verse!




And the instruction page clearly explains how to use the tract, and what to say.



This tool is a pop-up book. The pack contained two different stories. The Lost Easter Egg is a story of why we celebrate Easter and The Most Amazing House tells children about how we get to heaven. The stories are short, but create a wonderful introduction to the Gospel.
The remaining tools are a bead bracelet kit, a silicon salvation bracelet, and a wordless book. Each of these items use 5 colors to tell the Gospel message. These are very effective tools when ministering cross-culturally. We used them in India on my last mission trip!
Yellow - reminds of us of Heaven, Black - is the sin that keeps us seperated from God, Red - the blood of Jesus to cover our sin, White - our hearts, Green - growth, who else can we tell?
There are so many ways you can use these! In your Sunday School or small groups, as a teaching tool in your homeschool and even in your neighborhood and beyond. They are a simple, effective way to teach your children how to share the Gospel!
Be sure to check out our review of another fun way to share with - Is There Anything Better than Candy? Box-Tract!
Find Let the Little Children Come on Facebook
Hashtags:
#hsreviews, #ShareTheGospel, #evangelism