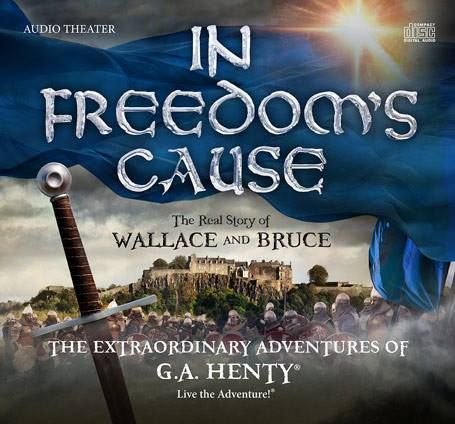 In Freedom's Cause Single Package from
Heirloom Audio Productions
In Freedom's Cause (CD Set - Physical Copy) - 2.5 hours - $29.95 is a beautiful 2 CD set that includes further study ideas and a copy of the prayer by William Wallace.

In Freedom's Cause Study Guide (Digital Download) - The 48 page Study Guide will help parents engage with their children. This is a great tool to expand their learning! Discussion points encourage you to Listen Well, Think Further and Define Words. This will guide you through the history and tie the story to several related Bible studies focusing on the themes of freedom, forgiveness, and fear.

In Freedom's Cause Soundtrack (MP3 download) contains all the original music by Emmy-winning composer John Campbell. You may be familiar with John's original core for C.S. Lewis' The Chronicles of Narnia.

Printable copy of The Prayer Of William Wallace. (Digital Download) is a version of Psalm 23 in the Latin Vulgate. This printable copy is a one page beautiful printable letter size poster.





Get ready for an UNFORGETTABLE listening adventure.

In Freedom's Cause

will have your children begging for more, I know mine did! We spend hours in our van. I'm sure many homes chool families do! Why not capitalize on your captive audience? This is just the resource you need to redeem all that van-time and turn it into learning-time!




The 2.5 hours will fly by as you are taken back in history to fight for freedom with William Wallace and Robert Bruce. We are huge GA Henty fans already, and Heirloom Audio has done a phenomenal job of producing HIGH quality audios of his inspiring stories. Take a peek at some of the voices on this star-studded theatrical performance:
Joanne Froggatt (Downton Abby as Anna)
Billy Boyd (Lord of the Rings, Master and Commander)
Skandar Keynes, (Chronicles of Narnia)
Cathy Sara (Woman in Black, Topsy-Turvy)
James Cosmo (Highlander and Braveheart)
The music is dramatic, and you feel like you are watching a live adventure story right before your eyes - but, with your ears! This is an action-packed story. My boys loved it (so did my girls!) Murder, intrigue, and sword fighting... but, so much more than that. It's the story of courage and perseverance and deliverance. These are the kind of heroes that inspire our children to greatness.
So, what is the point of studying history? To read a dry, dusty story, memorize a date or two, and bore them to sleep? Or is it really to take our children to another time and place and show them the hand of God moving in the times of men? These audios do precisely that. In fact, all of my family is now enthralled with this time period, and eagerly searching out more information. Bam! Success!
The Bonus features are the icing on the cupcake. You get the soundtrack, a study guide and more. You will have fun taking these resources and turning them into a full study on William Wallace and Scottish Independence - or, simply put the audio on all your kiddos devices and let them listen to it over and over, like I did.
We enjoyed
Under Drake's Flag
last year, and can hardly wait for
With Lee in Virginia
that is set to release around Memorial Day. You can follow them on
Facebook
for updates!!
Find -Heirloom Audio Productions on Social Media:

Facebook: https://www.facebook.com/InFreedomsCause
Twitter: https://twitter.com/InFreedomsCause
Google+: > https://plus.google.com/u/0/b/112701427096792421838/112701427096792421838/posts
Pinterest: http://www.pinterest.com/jointhecause
See what other members of the Crew thought here