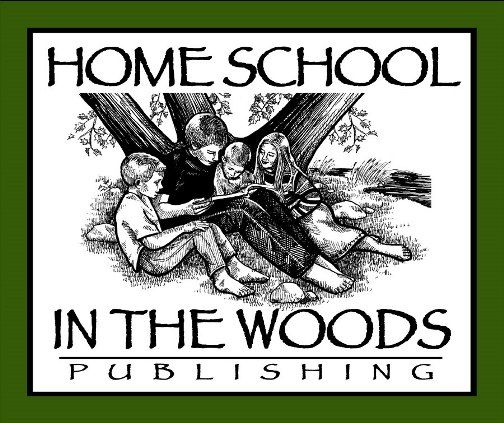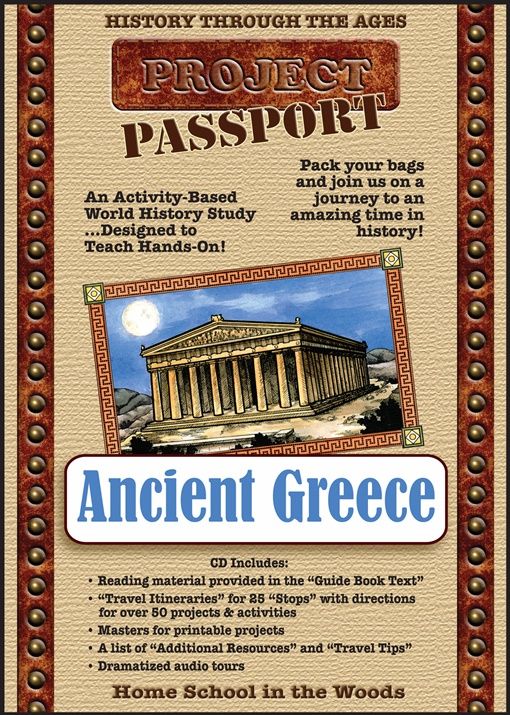 Why would you ever want to study history from a dry old textbook? We have been busy exploring the history of Greece with
HISTORY Through the Ages Project Passport World History Study:Ancient Greece from Home School in the Woods.
History has come alive!
This downloadable unit study is designed for grades 3-8. It features 25 "stops" along your way as you travel through Ancient Greece. You will explore government, everyday life, history, medicine, science, food, arts, philosophy and more! It's a full 6-12 weeks of learning (depending on how fast you like to travel...) Check out this
sample lesson
and take a peek at this video to learn about the Project Passport Series:

All you need is the study - available on CD or as a download, your computer, a printer (with lots of ink) and some readily available supplies...


I'm still old-fashioned, and like to see my lessons all laid out, So I printed out my "Itinerary" so I can see where we are going. This study is VERY easy to use, everything you need for each lesson is clearly laid out for you. Each lessons includes several pages of written information called the "Guide Book Text" about the "stop" or lesson, that you can read to your children. This lays a foundation for everything they are learning along the way.
At each stop, multiple activities are included to engage your students in what they are learning. A timeline, "Scrapbook of Sights" - notebooking, mapping activities, audios, hands-on activities and a really nice lapbook are just a few of them. The wide variety allows YOU to pick and choose which of them are a good fit for your learning styles.
Since we are lapbook fans - I printed out all the lapbook components right away, and put together a single lapbook that we used each day to introduce our stop. My kiddos love moving all the different flaps, slides, and uncovering the information. They enjoy it so much, they spend their "free time" looking trough it over and over and my older children loved helping create the lapbook. It makes a great reminder of what we learned too!
This is a very comprehensive, well-researched and written study. It's filled with facts, information and details of life in Ancient Greece. Even after multiple trips, we'd still have more to discover in this study! One of our favorite parts were the dozens of hands-on activities (all with detailed instructions for mom) included in the study.
Here they are with some creations - greek pottery, frescos, and hoplite sheilds! This is the type of learning that really sticks.
But, that's just the tip of the iceberg - we made our own "Great Greeks" fan cards, paper dolls, and even a "Greek Life" board game! We can't wait to tackle the model of the Parthenon next! This study has done an amazing job of capturing the attention of all my very DIFFERENT children's personalities.
I just can't say enough about how much I appreciate how Home School in the Woods makes teaching history fun and easy, both for me and my students. This is one MUST-Have resource! (and Ancient Rome is coming in 2018...)
Check out the other products the Crew has been using:
Ancient Egypt
The Middle Ages
Renaissance & Reformation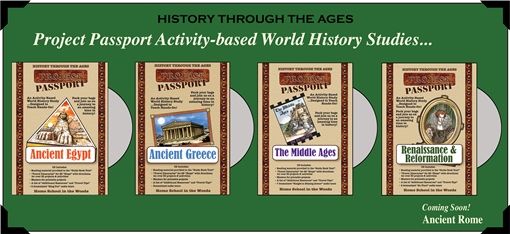 Find Home School in the Woods on Social Media:
Facebook: https://www.facebook.com/homeschoolinthewoods
Pinterest: https://www.pinterest.com/hsinthewoods/
Google+: https://plus.google.com/b/109711152019235885312/+Homeschoolinthewoods
Twitter: https://twitter.com/HSintheWoods @HSintheWoods


Hashtags: #hsreviews #history #unitstudies #AncientCivilizations #lapbooking
See what other members of the Crew thought here