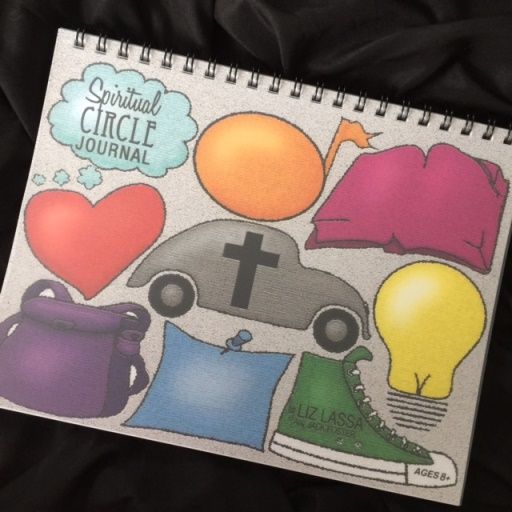 A fresh,new school year invites fresh, new approaches to our family quiet times. We have been using the
Spiritual Circle Journal for Kids & Teens
from
Spiritual Circle Journal
to bring some structure to our time.
This is a sturdy, spiral bound journal that can be customized, by your child, designed for children ages 8 and up. It consists of:
3 pages of instructions and guidelines to help parents fully utilize the journal
a sample journal page
66 blank journal pages
15 summary pages
The author, Liz Lassa, has patterned this journal after her adult journals. Each pages has areas designated to help your child listen and respond to what the Lord is speaking. I never really knew what a "quiet time" should look like until well into my adult years. This journal gives a very concrete picture of what a quiet time can look like, and a way for your child to process this special time.
The blank sections on each journal page give your child a place to write. They are in shapes to help remember each topic. The topics are:
Journal Entry - What are you thinking about today?
Lyric/Verse - Has a song or verse caught your attention?
Message - What is the most important thing you learned lately?
Confession - Anything you need to say sorry for?
God Moving - Have you noticed God doing something in your life?
Lesson Learned Light-Bulb Moment - Any life lessons, or "light bulb" moments?
Prayer - Need help?
Thank You/Adoration - What can you thank God for?
Actions - Anything God is wanting you to do?
The
summary pages
include circles for recording things like:
lessons learned
favorite verses to memorize
things God is doing in your life
Bible characters you want to learn more about
The Parent Guide pages are full of helpful tips. The author highly recommends that you sit down and do several pages with your child, giving prompts as needed. This helps them master the way it works.
Then, keep it fun. They don't have to complete every section, every day. A simple sentence is all they need. Add stickers or special pens and markers for your creative kids. The journal includes a blank cover, under a clear plastic protective cover, that your child can decorate as they please. Or, the colorful cover serves a reminder of each journal section.
I loved her pointers on how the pen is better than the keyboard!. (I've been telling them this for years!) This journal really appeals to all learning styles too. Visual, auditory (when you talk it out with them) and the kinesthetic learners will all find it appealing.
My tester fell in love with this journal right away.
She likes to find a quiet place to fill in her page, and then, come find me to show me. It's given us numerous opportunities to discuss what God is saying to us.
The author encourages us to share our own faith stories with our children. This is a fabulous tool to introduce them to listening to God on their own. Plus, it creates a great way to talk with them as well.
I'm so impressed...I want my own!
Facebook:
https://www.facebook.com/LizLassa/
Instagram:
https://www.instagram.com/spiritualcirclejournal/
@spiritualcirclejournal
Twitter:
https://twitter.com/liz_lassa
@liz_lassa
Hashtags:
#hsreviews #spiritualcirclejournal #journal #prayerjournal #spiritualcirclejournalforkids #kidsjournal