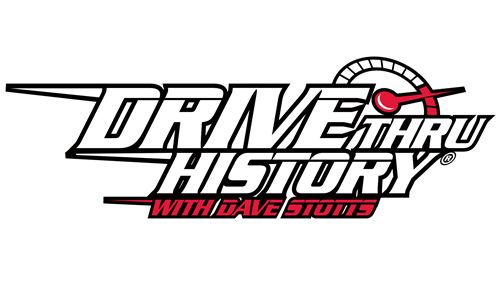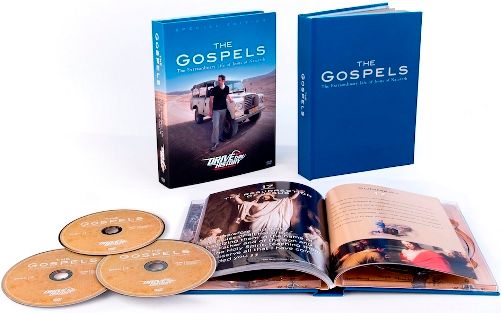 Drive Thru History® – "The Gospels" from Drive Thru History®:
Buckle up! Dave Stotts is about to take you on a road trip through the life, times and actual locations of Jesus as recorded in the Gospels of Matthew, Mark, Luke and John in the NEW - Drive Thru History® – "The Gospels" from Drive Thru History®.
This 3 DVD set contains 18, 30 minute episodes of one of our favorite ways to experience history! In addition, the boxed set includes a 118 page Study Guide.
David Stotts has my dream job, visiting over 50 locations recorded in the Gospels and getting to introduce us to them with his classic style. He is highly entertaining... my children and I have been long time fans! The episodes cover:
The Historical Landscape
The Announcements
Jesus is Born
Jesus Grows Up
Jesus Starts His Ministry
Jesus Returns to Galilee
Jesus Begins His Miracles
Jesus Teaches with Authority
The Sermon on the Mount
Jesus Travels the Sea of Galilee
Jesus Travels North
A Final Trip to Jerusalem
Jesus Arrives in Jerusalem
The Last Supper
The Trial of Jesus
The Crucifixion of Jesus
The Resurrection of Jesus
Who is Jesus?
This set is BEAUTIFUL as well as educational. Right away, we were impressed with the quality. The videos are simply captivating. They are professionally done from start to finish. Each episode is filled with live action film and classic art. Dave weaves Scripture throughout every episode as he narrates the story of Jesus' life.
You feel like you are actually visiting the familiar locations of the Bible you have read about... Bethlehem, Jerusalem, the Sea of Galilee, and more. The Bible comes to life for you and your children in an entire new way.
By presenting archaeological, cultural and historical information you get to experience the life of Jesus, and truly know it's "all real".
This series is completely family friendly. We love to watch it altogether (multiple episodes at a time), not just for "school" but for family movie nights as well. Our family has been reading the Bible chronologically this year with our church, this series was perfect for bringing our reading to life.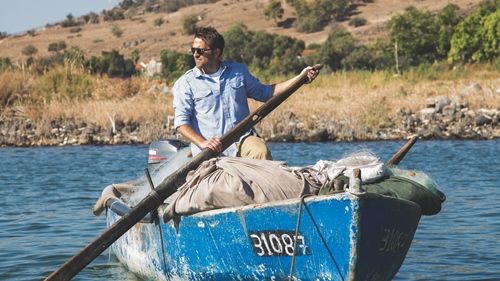 My children love Dave's sense of humor. He makes every episode interesting with his hilarious antics. But, he is also a knowledgeable gifted storyteller too.
We were super excited to actually get to meet him in person at a recent homeschool conference (he's just as funny in person...)
Having been long-time fans, we knew he ALWAYS has a new ride for the adventure. This time, he takes us on the road with a very old Land Rover, and even teaches us how to cook with it :-)
The Study Guide is beautifully done as well. It is filled with stunning photographs on high quality paper. Each episode has a section with a brief summary and several discussion-style questions you can use to spark more in-depth thinking. Bible readings are included for each episode. This could easily be used as a Sunday school or small group study.
I have always wanted to visit these amazing places, to see what Jesus saw, and walk where he walked. If a trip to the Holy Land is out of your budget...
Drive Thru History® – "The Gospels"
can take you there.
I love that Dave's heart shows through - he ends this series with the important question - "Who do you say Jesus is?" This series is a wonderful way to SHOW your children who Jesus is!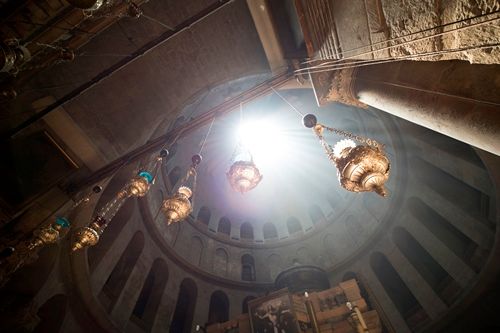 Hashtags:
#hsreviews #drivethruhistory #thegospels