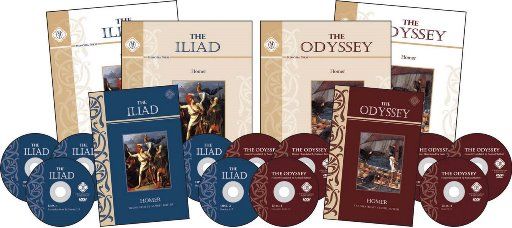 Iliad & Odyssey Complete Set from Memoria Press
The Bentz Test Laboratory has been transported to the ancient world with Iliad & Odyssey Complete Set from Memoria Press. This amazing resource contains everything you need to unlock the secrets of some of the greatest literature in the history of the world!
This set contains:
The Iliad by Homer
Text (translation by Samuel Butler)
Teacher Guide
Student Guide
5 instructional DVDs
Text (translation by Samuel Butler)
Teacher Guide
Student Guide
6 instructional DVDs by Sean Brooks



This set is recommended for grades 7-12, and can be used for a full year course.
You can see a sample here
. My tester was a 8th grader. She was delighted to get a chance to We were blessed to get the entire set, we chose to start with the
Iliad
since it happens first.
Homer can be a bit daunting to teach...but, Memoria Press, who is a favorite provider for our classical studies, has made it painless. This set is wonderful!
The Text is broken down into 24 readable "books" (or chapters). Each book can be completed in approximately an hour and half (depending on your child). It has been translated into easily understood text and they recommend that Homer is "best when read aloud". The Text begins with a handy chart of the "Friends and Foes of Homer's Iliad". My tester loved having this at the very beginning of the book to get the characters straight right away..
The Student Guide
contains a 2 page written lesson for each book of the Text. Several activities are included to help make sure your student is understanding their reading.
Identify Places & Characters - key people and places in the book
Comprehension Questions - key questions from their reading
Quotations - great quotes
Discussion Questions - oral (or written) discussion questions to encourage deeper thinking
The Appendix contains tons of useful information. Genealogies, explanations of names, descriptions of weaponry and armor, ship terminology and character references. This appendix really helps unravel all the mysteries in Homer's Illiad.
The Teacher Guide is an absolute treasure! It contains answers for all of the pages in the Student Guide as well as:
Background and Drill - the "insider" info about the Iliad to prep you for teaching it.
Discussion Help - notes for discussion.
Questions to Mark for Test - the questions your student will be tested on.
Teacher Notes - helpful tips for preparing your student
Essays & Assignments - mapping, writing, memorization, performances, and more to round out the study
In addition, 2 tests and a Final test are included in the Teacher Guide. The tests are a combination of fill-in-the-blank, multiple choice, short answer and quotation. These are excellent resources for your high school student to assess grades for their transcript.
The Instructional DVD's
were our FAVORITE part of the program! Each Book is explained by Sean Brooks, teacher of classical studies and Latin at Highlands Latin School in Louisville, Kentucky. The videos are engaging and well done, with excellent picture and sound quality.
Mr. Brooks is reviewing and commenting on each book's key points. Behind him is classical art, which makes it more visually interesting as well. The student should read first, then watch the DVD.
The Odyssey set contains the same well-done resources to follow the exciting adventure story of Odysseus as he returns from the war. We can't wait to unlock it next.
This set can be used independently, or worked on together. Best of all, you can teach Homer - even if you've never read it before :-)
This set is a wonderful way to introduce some of the greatest books ever written, and Memoria Press has made it easy to teach too!
Other Reviewers have been testing several products you will want to check out as well:
Hashtags: #hsreviews #memoriapress #classicalchristianeducation #classicalyhomeschooling #PRODUCTNAME #classicalchristianhomeschooling