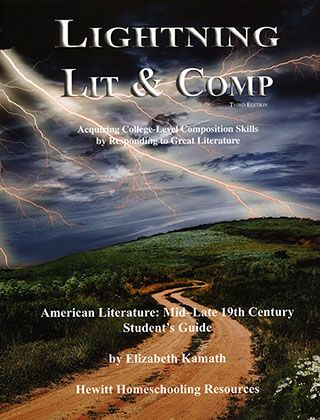 from

Are you ready for High School Literature? No, well...I'm not either! But,
Lightning Literature and Composition: American Mid-Late 19th Century Student's Guide
from
Hewitt Homeschooling
will make it manageable and enjoyable!
Hewitt Homeschooling
specializes in creating products that truly educate your students. By reading great, classic literature and responding to it with writing - your students are forced to develop high-level thinking and reasoning skills.
This study covers four units with reading selections focusing on American classics: books, short stories and poetry. The books are not included, and must be purchased separately (or retrieved from the library :-). The books included in this edition are:
Uncle Tom's Cabin
by Harriet Beecher Stowe,
Adventures of Huckleberry Finn
by Mark Twain,
Red Badge of Courage
by Stephen Crane, and
The Call of the Wild
by Jack London. Short Stories from Bret Harte, and poetry from Walt Whitman & Emily Dickinson are included in the Student's Guide. Check out the
Table of Contents
and a
Sample Chapter

.
You can customize your schedule to cover this in a semester, or a full year - handy
Semester and Full-Year Schedules
will help you plan.
The Bentz Test Laboratory will be studying American History this coming year, so this could not have been more perfectly timed. My tester is entering his junior year of high school (how did THAT happen... I swear he was in kindergarten a minute ago) Back to the review...
The introduction covers important topics like "
Why Read Literature
?", "
How to Read Literature
", "
How to Read Poetry
" and "
Figurative Language
". The second section is a "
Paper Writing 101
" with very basic writing instruction.
My tester started with "
The little woman who wrote the book that started this great war
" - Harriet Beecher Stowe's
Uncle Tom's Cabin.
Each unit begins with an Introduction, which covers basic information about the author and the selection. "
While you Read
" questions are included to keep you thinking as you read the book. This particular unit's literary lesson's focus was on "Theme". Explanations of the literary term, and examples from the reading were clearly taught.
Comprehension Questions
are available to discuss with your student as they read the selection.
Uncle Tom's Cabin
is quite a heafty book - so, the questions were an excellent way to keep up with what my tester was reading (without having to read it myself) One feature I admire about
Lightning Lit Guides
- they are designed for independent work from your student.
Following the reading, questions and literary lesson, writing exercises are included. This is where your student moves from "fill-in-the-blank" to higher level processing. My tester liked that there was a variety of options to pick from - this lesson had 8 writing exercise choices. (don't make them do them all... unless you like torturing your poor child).
He choose to write his paper by focusing on a character, other than Tom, that the author used to illustrate her argument against slavery. He used George, another slave, to make his point of how slavery was "
cruel to even the most talented slaves, and how slave holders tormented their property, even when it produced a tremendous profit
".
The
Teacher's Guide
offers grading tips and rubrics for evaluating your child's writing, as well as answers to the comprehension questions.
Discussion Questions
and
Project Suggestions
are included for each selection and are excellent ways to expand the learning. These are more than comprehension questions, these are the deeper questions that challenge ideas and make some amazing dinner table discussions! An example from
Uncle Tom's Cabin
- "
How does doing evil affect the doer
?" An excellent resource, for only $2.95!
Project Suggestions
add art, geography, Biblical references, Science, Health & Nature ideas you can add to the study.
I have been very impressed with
Lightning Literature and Composition
- it's a comprehensive literature program, at an affordable price. You will want to give these a try!