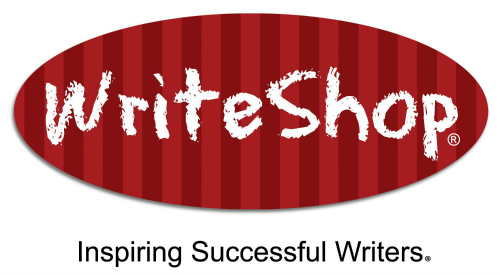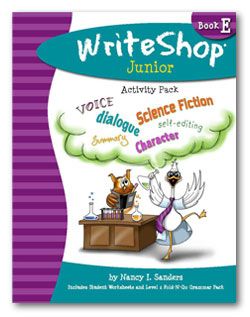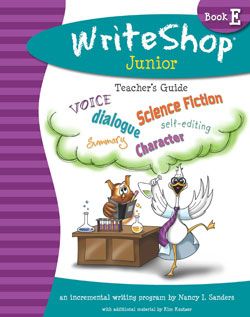 WriteShop Junior: Book E Set by WriteShop
Includes:
WriteShop Junior: Book E Set by WriteShop - is great for fourth and fifth graders (and sixth and seventh graders who have had little or no formal writing instruction). WriteShop offers an full writing curriculum for K-12 in various levels: WriteShop Primary for grades K-3, WriteShop Junior for grades 3-5, WriteShop for grades 6-10, Write Shop II for grades 8-12. This program is designed to be a full year program with approx. 3 lessons per week. It's variety appeals to all learning styles, and it can be easily used with multiple children at the same time.
The Bentz Test Laboratory tester is just entering 4th grade and was eager to start with the Book E set (Download a Book E sample lesson)
The topics covered are:
Fables
Humor
Adventure
Science Fiction
Mystery
Poetry/Shape Poems
Personal Narrative
Descriptive Narrative
Book Report/Responding to Literature
Expository Writing: Nonfiction Report
Skills learned are:
Writing in different fiction genres
Writing nonfiction and book reports
Answering journal prompts
Planning and organizing each writing project
Choosing strong words and synonyms
Developing voice and emotion
Writing sentences of different lengths
Learning to write using 5 paragraphs
Creatively publishing final drafts
Using references
Using a variety of self-editing tools
Let's start with the Book E Teacher's Guide - I got the Ebook version, and loved it. It's a huge 279 page PDF file with everything you need to know to succeed. It takes the pain out of how to teach writing to your children!
It is very complete and comprehensive, but very easy to use. Recommended schedules, how to create your own writing center, literature suggestions, and so much more. Lesson by lesson, the Teacher's Guide will walk you through the supplies, hands-on activities, advance prep (if any) and the objectives for each lesson. Helpful tips and encouragement are in sidebars throughout this must-have guide. If you feel intimidated by teaching writing, or even if you don't - this guide is worth every penny! Guided scripts will help you "Model & Teach" the concepts with stories, games and plenty of hands-on activities. You will feel empowered.
The Activity Pack: is an 88 page, printable PDF with all the activity sheets to correspond to each lesson. My tester loved the variety of activities - charts, prompts, book making, and even a mad-scientist game! If you have a child that thrives with something other than just a blank piece of paper to inspire them to write, you will appreciate this program. My tester seems to have "writer's block", unless I can capture her imagination and make it look more like having fun. WriteShop was just the ticket!
My tester started with writing Fables. This is exactly the type of story she enjoys the most, so it was an easy concept to introduce, if your child isn't familiar with this genre - the Teacher's Guide has excellent additional reading selections to help.
We used the brainstorming sheets in the Activity Pack to choose her characters. She choose the characters from "Belling the Cat", a familiar tale to her. The graphic organizers helped her develop her fable with a beginning - middle - end, and adding the moral of the story. After learning about how fables are usually written with animal characters, and contain a moral, I let her loose to write her first draft. I can't resist sharing her "fable" - she titled it "Die or Put the Bell On" Are you getting a glimpse into her personality? :-)
Die or Put the Bell On
By Lydia Bentz
A family of door mice lived in a enormous house. Every night they would venture out and
steal some food. One day the family brought home a vicious cat with big, sharp claws. Every
time the mice snuck out, the cat would pounce on some of them and gobble them up.
Inside the hole, one of the mice bemoaned, "What will we do about that wily cat?".
"I know", suggested the youngest mouse, who all the girls loved.
"We can tie a bell to the cat's neck, then we'll be able to hear when it's lurching for us."
"Hurray! Hurray! Hurray!" the other mice chorused.
"Hey", declared the oldest and wisest mouse, "Who's gonna do it?" No one squeaked a word.
The moral of this story is: "Die or put the bell on."
After she finished writing, we worked through the 4 steps of "All Star Editing" to make her story even better. Checking for spelling, punctuation, capital letters, and for this assignment - interesting words, really helped her carefully evaluate her writing. At this stage in writing, it's important for you to be working with your child. WriteShop encourages this to be an interactive subject, not completely independent.

The Fold -N-Go Grammar Pack is a vital part of the program, included in the package. It contains 10 grammar Lessons, in a file folder format - that you and your student assemble together, covering:
Lesson 1 Sentences
Lesson 2 Four Kinds of Sentences
Lesson 3 Compound Sentences
Lesson 4 Parts of Speech: Review
Lesson 5 Dialogue
Lesson 6 Homophones, Homonyms, and Homographs
Lesson 7 Five Paragraphs
Lesson 8 Prefixes and Suffixes
Lesson 9 Compound Words
Lesson 10 Synonyms and Antonyms
This is a great way for your hands-on learners to get involved with the grammar needed to improve their writing, not to mention - a great review tool!
If you're a busy mom (HA!), you may want to get the
Timesaver Pack
- it's a 26 page ready to print PDF of spinners, game cards, and other activities that go with this program. I appreciated this time saver very much.
The

Optional

Junior Writer's Notebook 1 is another valuable tool to add to your writing toolbox (it actually can be used with any writing program). This is a 23 page PDF that contains 12 printable worksheets to help your budding author plan and write. It's their very own "seed bed" of writing ideas. Characters, settings, plots, word banks, and even a title toolbox will get their creative juices flowing.
This gem is the component my tester liked the most. Having her very own Writer's Notebook, that was filled with her ideas and writing was a confidence booster for her.
As a busy mom of many, I really appreciate
WriteShop's
programs.
They are very comprehensive, but completely affordable, not to mention, large family friendly!
You don't need to learn a complex program to start teaching your child to write - and enjoy writing.
WriteShop makes it easy to teach, and keeps writing an engaging and exciting time for you and your child.
Find WriteShop on Facebook, Twitter, Pinterest, Instagram and Google+
See what other members of the Crew thought Here