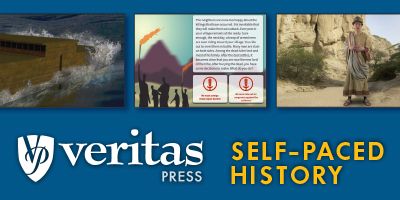 Veritas Press Self-Paced History: 1815 to Present from
Veritas Press
Ideal for Grades 2nd-6th
Cost: $199 per course ($100 discount for siblings). Course is available for 12 months.
1815 to Present Flashcards - $19.95
The Bentz Test Laboratory loves history. We love reading it, we love watching it, and we love playing it. Veritas Press Self-Paced History: 1815 to Present from Veritas Press

let us do all those things!
The
Veritas Press Self-Paced History
features five separate courses, each containing 160 class periods and cover 32 important historical events each. Each course contains engaging, on-line, video lessons. The interactive teaching includes games, video footage and even talking characters from history.
The five courses available are:
Veritas Press Self-Paced History: 1815 to Present
This chronological approach to studying history provides a variety of ways to memorize important dates, events and characters. They use maps, puzzles, historical paintings and even a memory song, along with the physical
1815 to Present Flashcards
- 32 major events in chronological order, to really cement this history in your child's memory. You can check out a sample lesson
HERE
.
The Bentz Testers were able to easily log into the system and get learning. Our only hangup was that we couldn't get the lessons to properly launch and advance with Internet Explorer. Simply switching browsers immediately corrected the issue. (you can check out the system requirements on the
FAQ page
) Their
customer service response was quick and friendly too!
It's simple to get started, and since we were just beginning this time period in our history studies we jumped right into the Monroe Doctrine. This course features Eva and Marcus as their "teachers" and covers 32 major events from the Monroe Doctrine to modern times, primarily American History. The lessons varied in time, but took about 20-40 minutes to complete, each of the 32 major events are covered over 5 lessons.
My testers loved the teachers, they were funny and engaging as they discuss the lesson, even joking together. They make the lessons feel very real, not just a canned presentation. The videos are very professionally done, my testers thoroughly enjoyed them! Just watching the backdrops of their history presentation was entertaining.
The program monitors your child's progress, and automatically begins where they left off, even in the middle of a lesson. This is truly a self-paced program, you determine the number of lessons, and where you would like to start. My testers were all grades 2-6 and could easily manage this on their own. However, I didn't want to miss out - they really are very engaging lessons.
One of the aspects we truly admired was the variety of activities included. Not only the video history lesson, but mapping, reviews, art study, timeline work and plenty of additional interesting information to go along with the topic are included in each lesson.
My testers especially enjoyed the different ways of reviewing the lesson. For example, when answering review questions - they used mini globes to smash the wrong answers. Spelling challenges were another hit (can't believe I actually can say that...spelling is not usually a favorite activity around here...) The challenge to spell the word in a time limit was very motivating to my testers. The variety keeps the lessons interesting, never boring!
The flashcards are a welcome, and necessary component to the online program. We didn't have them at first, and my testers found it difficult to remember all the facts for the quiz. Once the cards arrived, my testers did much better with the flashcard to reference. Not to mention, the flashcards are beautifully done as well.
Every 5th lesson features a quiz. My testers were able to score well on the quizzes due to the frequent review and repetition throughout the lessons.
Once logged in, parents can easily see the progress, look ahead and monitor scores. In addition, PDF files are included that outline the hands-on projects and supplies needed as well as outside recommended reading.
Don't be put off by the price tag, this is a very complete, very comprehensive history program. It's well worth the investment to get your students engaged in learning history. My testers are loving it, and I'm sure yours will too!
For older students be sure to check out the
Veritas Press Self-Paced Omnibus I!
Find Veritas Press Self-Paced History on Facebook, Twitter , Pinterest and Google+
See what other members of the Crew thought here