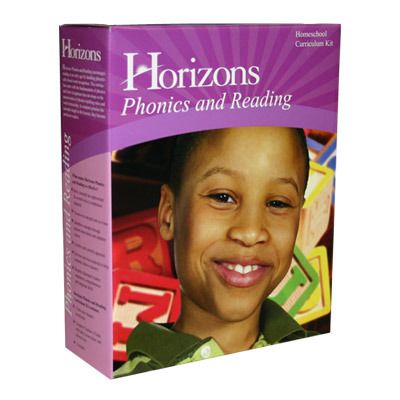 This engaging, homeschool phonics and reading program contains the following:
A must-have, 380 page teacher's guide that includes a daily lesson planner, teaching tips, duplication masters, answer keys, review worksheets, and 16 tests to evaluate your child's performance.
160 fun-filled lessons and activities that enhance your child's mastery of phonics, spelling rules, and vocabulary divided into 2 Volumes. Each lesson is 2 full color pages. Activities include word searches, matching, fill-in-the-blank and more.
Two student readers included. Readers feature classic stories and poems to be read aloud. Robinson Crusoe and A Little Princess. The lessons from the workbooks correspond to the reader.
Check out a sample page
My tester was impressed as soon as she opened the box! The workbooks and readers are brightly colored, not something our previous reading program included. Who would have thought that the colors could make so much difference in enthusiasm??
However, I have been learning a lot about how different children learn this summer, and all those brightly colored pages are actually a great fit for her particular learning style.
This is a great - "open the box and GO" type of program. It's very low teacher prep, and everything you need is included. The lessons usually contain a moral lesson - things like: "Look ere you leap", and "Out of sight, out of mind".
My tester is more of a struggling reader, but the reader's clean font, and uncluttered pages were a huge help to her. She is very excited to be getting to read a "big kids story" like
Robinson Crusoe
. The poems and classic short stories are fun reads too.

She really enjoys workbooks, so I knew this one would be a hit. The program moves at a pretty healthy pace, but not too fast. Completing 2 pages a day will make this a full year program. Once the phonics lesson has been introduced, she has been able to work independently for the most part. This can be a lifesaver in a busy house with more than one child!
The Teacher's Guide is a very useful tool for this program. Each lesson has the overview, materials & supplies and plenty of teaching tips. If you are new to teaching reading and phonics - you will love this! Activities to reinforce each rule are included, and a picture of the accompanying student pages as well. Review of concepts is built into the program. Assessments are included if you like to measure progress that way.
I really can't believe we've never discovered this program in all of our years. I must say - I'm impressed at how easy it is to use, and how much my tester has been picking up!
We're looking forward to the new year.
Other members of the Crew reviewed some gems from Alpha Omega you may want to take a peek at:
Horizons Preschool for Three's Curriculum Set
See what other members of the Crew thought here