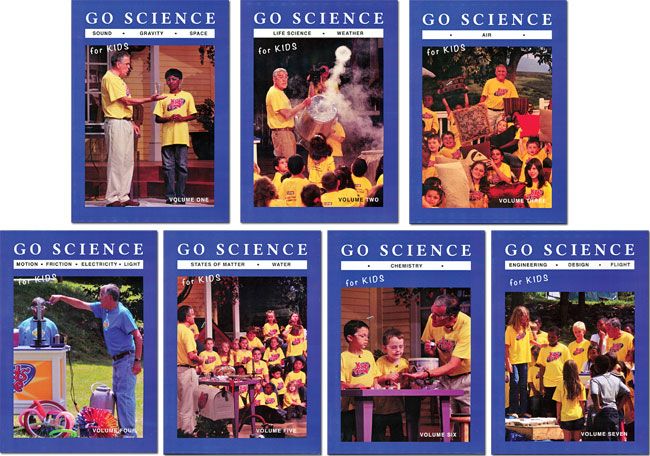 Science DVDs (All NEW - Series 2) from Library and Educational Services
Volume 1: Sound, Gravity, Space
Volume 2: Life Science, Weather
Volume 3: Air
Volume 4: Motion, Friction, Electricity, Light
Volume 5: States of Matter, Water
Volume 6: Chemistry
Volume 7: Engineering, Design, Flight
Cost: $8.87 each.
Great for ages 4-12.
The Bentz Test Laboratory was delighted to get a chance to preview the
Go Science DVDs from Library and Educational Services.
We are always on the hunt for new ways to add some science fun to our days. We were given our choice of 2 titles, we picked Volume 2: Life Science, Weather and Volume 7: Engineering, Design, Flight Here's a short video sample to check out:
These DVD's are around an hour long and feature Ben Roy, a science teacher at the University of Tennessee at Chattanooga. He covers a variety of science topics in the seven volumes, with 80 short demonstrations, around 5- 12 minutes each. The DVD's are live taped with an audience filled with children, and your children will feel like part of the group.
Mr. Roy begins each segment with a science explanation and uses children as his "helpers". I noticed my children were so engaged that they actually raised their hands to volunteer as the helper! Good sign that they are enjoying this.
His explanations were directed to this age group. He has a gentle tone and is very engaging. Older children may find it a bit corny (or so they tell me...) But, they are NOT the intended audience! This is geared toward your younger scientists.
My testers liked to watch segment after segment. The length of each segment was perfect for their attention spans. As I watched along, I was amazed by how much I was learning. (and I used to teach elementary science at our co-op!)
Volume 2: Life Science, Weather - our thoughts:
I especially liked how Mr. Roy didn't lecture. He showed cool objects like skulls, asked questions, made noises & explosions, involved his audience, and ultimately - let them draw the conclusions. This is how science should be taught! Your young child's curiosity will be awakened, and many of these demonstrations are things they can try at home without complex supplies. My kiddos vow to go on a spider hunt together (as soon as they find their courage...) and all they need is a flashlight.
Volume 7: Engineering/Design, Flight -
our thoughts
This volume has some fun experiments you can try at home with just a few supplies. For instance - flinging rocks with a trebuchet (aka - pumpkin' chuckin' anyone!), walking on eggs, vinegar rockets. It's a boy's science dream - explosions, getting wet, and things flying - what's not to love?
Once again, I appreciate that these experiements are something that my children can get up and go do on their own. Most of all, I love how Mr. Roy introduces them to how science relates to the Bible and ignites a spark to know more.
Each segment could be used as a stand alone introduction to the topic. I kept thinking how great these DVDs would be for Sunday School or VBS classes. Co-ops could use them as well. With summer break in full swing, you can use these for some rainy day fun too!
The best part of each segment, in my opinion is that Mr. Roy ends each episode with , "When we learn more about science, we learn more about our Creator, God." A message worth listening to, over and over again.
Find Library and Educational Services on Facebook
Read what other members of the Crew thought here