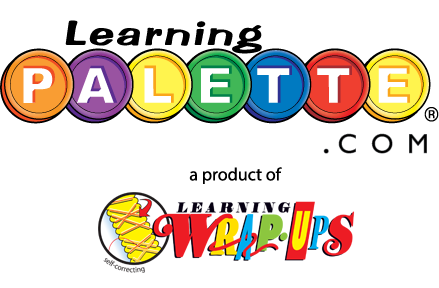 LearningPalette.com by Learning Wrap ups
Full Online Family Subscription for all levels of Reading/Math Palettes instruction, up to 5 users for a full year. These are ideal for grades K-5th.
Cost: $59.99 for up to 5 users. (Get a 20% discount when using the coupon code of HOMESCHOOL)
The Bentz Test Laboratory loves games! Online games (educational only - of course...) are some of my favorite learning incentives to add a little fun learning into our summer.
LearningPalette.com by Learning Wrap ups
is an online version of the popular Learning Palette center.
A Learning Palette is a clock shaped, self-correcting learning tool. Colored disks are placed as answers to learning questions. Cards come in both math and reading, as well as many different skills and levels. When the cards are turned over, the colors of the answers on the card match the disk (or not) giving immediate reinforcement.
In
LearningPalette.com - the online version,
your child gets the same content, but access to all the available learning cards! Y
our student can c
hoose from either Math or Reading.
The math palettes are available for 6 levels or grades and offer 35 math titles. The reading has 4 levels of play and offers 20 reading titles.
Together
they provide close to 8,000 different questions for kids grades K-5. Plenty of choices to pick from.
Concepts like: coins, numbers to 100, phonics, nouns, adjectives, early reading… these are just a few of the things offered in the early levels that the Bentz Testers enjoyed.
Check out this demo:
This program will allow up to 5 users. Multiple users can be at different levels for math and/or reading. It's completely customizable to your child's level. It's extremely easy to use, and very basic. The Palette and colored disks are shown on screen (no pieces to loose!). My testers simply had to match the color of the disk to the question answer, drag and drop. Both my testers - ages 5 & 6 were very comfortable using the mouse, if your child isn't familiar with this yet - it may be good hand/eye coordination practice as well.
Once they finished a card of questions, they could simply advance to the next card by clicking on "next". The online version will allow a parent to monitor which cards have been completed. I let them pick and choose, and used this as "fun", instead of "school". Wait - I mean school is fun, right?!
As I mentioned - this program features simple graphics, no sounds (yipee for mom!). It's designed to be for practice and review/drill - not to teach concepts. If you want to see how to correlate this to what they are learning, be sure to check out the core curriculum correlations sheet on their website.
Both my testers enjoyed getting time to play with the Learning Palette, and both tired of it rather quickly. Physical Learning Palettes are also available, however - for this mom, the online version is a nice way to keep from loosing any of the colored disks or learning cards.
This is a great tool to add to your learning toolbox this summer, you can even take it on the go with your mobile devices!
Find the LearningPalette.com on Facebook & Twitter
See what other members of the Crew thought here