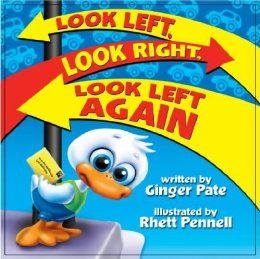 From their website:
"When Wally Waddlewater wants to find a mailbox to mail a birthday card to his Grandmother, he has to learn how to cross the busy streets of his town as well as the rules for crossing streets safely."
Ages: 3 - 8
Cost: $8.50
I found a treasure to introduce -

Greene Bark Press!

Just read their

company philosophy

, and I'm sure you'll be hooked too:
"
Our books and stories are selected for originality, imagery, and colorfulness. Our intention is to capture a child's attention, to fire-up young imaginations and spark the desire to read and explore the world through books."
Even with the advent of the Internet, text messaging, the IPOD, Ninetendo, Wii etc., we still feel that the key to reading and language comprehension is the printed book. It has been estimated that a child must acquire new words at the rate of 5,000 a year during the developmental reading stage of his or her life. This is far more than can be taught directly. Retention and understanding of new words and concepts are much more successful when presented in a related context or in a themed approach. What better way to accomplish both of these goals than through good imaginative books and stories?"
Look Left, Look Right, Look Left Again is a colorful board book about crossing the street safely. This is a lesson that I feel like I teach, teach, teach... know what I mean? With 8 children, there has always been someone needing the lesson on crossing the street safely.
My Best Test Laboratory tester is our spicy four year old. She's the prime age for feeling like a "big girl" but, needing alot of guidance before she can do "big girl" things!
We snuggled up to read
Look Left, Look Right, Look Left Again
. She loved the bright pictures, and ryhming text. I loved that the message - "Look Left..Look Right, remember then, Look Left again" was repeated over and over!
The very next time we were crossing the street, guess what came out of her mouth? You got it - "Look Left..Look Right, remember then, Look Left again" BINGO - the power of stories and books with our children!
Since then, several other testers have read & enjoyed this quick book on safety. It's a great way to reinforce this lesson until it sticks.