Foundations A by Logic of English

From their website:
"Learn and giggle alongside your students as you engage them in fun, multi-sensory activities which lay a complete foundation for reading, handwriting, and spelling.
This pick-up-and-teach manual provides everything you need to introduce students ages 4-7 to reading and handwriting! The manual is filled with fun games and activities that engage children's natural energy and playfulness while teaching them the systematic structure of English.
Cheerful callouts provide Teacher tips, ideas for Multi-Sensory Fun, Speech Tips, Challenge Activities, Vocabulary Development Tips, and Book Suggestions. Instructions for teaching both the cursive and manuscript lowercase letters are included as well as eight lessons which aid teachers in assessing student progress and provide resources to create customized review lessons.
"
What is covered in Foundations Level A? - see the scope and sequence
Cost: Customize your Level - with either PDF or print editions and many fun tools too!
Foundations A Teachers Manual ($38)
Manuscript Workbook ($18)
The Rhythm of Handwriting Manuscript Chart ($9)
Basic Phonogram Flash Cards ($16.20)
Manuscript Tactile Cards ($25.20)
Red Manuscript Phonogram Game Cards ($9)
Blue Bookface Phonogram Game Cards ($9)
Student Whiteboard ($10.80)
Phonograms App ($2.99)
Here we go again...the Bentz Test Laboratory is on our final two. Final two to teach to learn to read, that is...
My tester is our very eager - 4 year old. She has been watching everyone get all the "attention" with school, and wants a piece of the action for herself.
When the Logic of English - Foundations A box arrived, we were blown away! It was a learning-to-read-treasure chest. Games, cards, colorful and bright, and even a whiteboard. This is a package worth getting any day.
The Teacher Guide is laid out in a very clear, easy to understand manner. Plus, everything you need to succeed is included - supply lists, speech tips, and so much more. The speech tips have proven to be especially helpful - as my tester is in speech therapy. I found many tips that are helping her progress (and that I plan to use with other children as well)
I really enjoyed that it was so colorful, I know it shouldn't matter - but, I really felt like it made this program seem more "new" and advanced than the same old black-and-white stuff we've been using forever. Add in the App - and we're moving into a whole new generation!
My tester was in love with this from day one! The Tactile letter cards quickly became a favorite. Being able to touch the letter was just plain fun (if you have a tactile learner - these are a MUST HAVE). The Student Workbook is also a visual treat - the pictures are all full color - it captured her attention. Several other testers happened by and mentioned, "Why didn't we get to learn to read with all that fun stuff?".
The Student Whiteboard - what genius idea! What kid doesn't love writing on the whiteboard? With the pre-printed lines - this was a perfect way to practice, and we've been using it all over the place. The handy Rhythm of Handwriting Manuscript Chart was a helpful tool to remind me of the proper way to form the strokes, the Phonogram Cards have the same info as well. The Game cards are used in lessons throughout to reinforce and make the learning fun.
One of our favorite parts - was the Phonograms App. We could take our learning on the go with us (and trust me - we are always on the go!) My tester could practice her phonograms with a fun matching game, or use it like her own set of talking flashcards. We had every little kid in the waiting room crowding around to see what she was "getting to play". I loved being able to pull it out, and let her practice!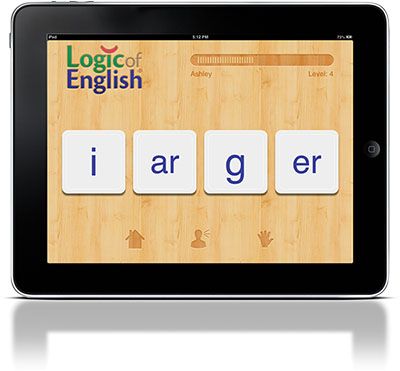 I was completely impressed with Logic of English's Foundations A. It is very complete, very professionally done and very easy to pick up and use.
Now, if only the poor testers that didn't get to have this experience learning to read would quit whining about it...
Logic of English offers many other products to fill your language arts needs. Foundations B is the next book in the Foundations series, Essentials is a program designed for students ages 7+, the Rhythm of Handwriting is an easy to teach handwriting program available in manuscript or cursive.
Click to read more reviews from the Schoolhouse Review Crew