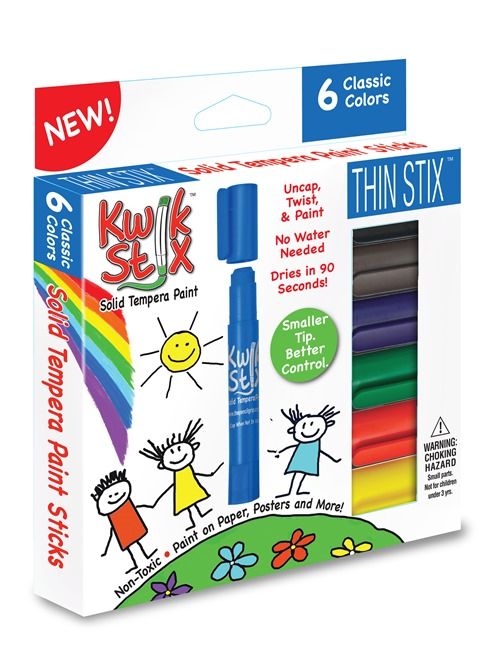 Thin Stix 6pk of Classic Colors from The Pencil Grip, Inc.
I love when my children get creative... but I don't love the mess that they make in the process! I have discovered a treat that makes all of us happy - Thin Stix 6pk of Classic Colors from The Pencil Grip, Inc.
These gems are solid, non-toxic, tempra paint sticks that don't need water or brushes! They work on paper, posters, and much more. They dry fast, less than 90 seconds. Best of all - they don't make a mess!!
Thin Stix look and feel like a marker, but paint like a brush. Just take off the cap, twist and you car ready to paint! The set we tried came in 6 classic colors: Red, yellow, blue, green, brown and black. They offer 12 pks of Thin Stix and many other colors as well.
They are very easy to use. We have been fans of Kwik Stix (read our review here) since we discovered them last year. We use them in our art classes at Coop, they are virtually mess free, so it's the perfect art supply! Thin Stix have a thinner tip than Kwik Stix and give you more control for detail while creating. My testers like both, but found the Thin Stix a little easier to work with because of their size, they feel just like a marker.
Thin Stix are very smooth, the paint glides onto the paper. The colors are vivid. It's actually quite fun to paint with them, I even got into it myself. You can throw away your messy brushes!!
The finished work dries super fast and really looks like paint too. We painted mainly on paper - but Thin Stix will work on many other surfaces as well. Paper, poster, wood and even rocks! These are great for big projects as well, they are great on posters and presentation boards.
They are great for little hands, easy to hold and easy to use.
But, big kids can't resist them either!
But, here's something you won't believe unless I show you... WE PAINTED IN THE VAN! Yes, Thin Stix are so mess-free and fun, you can take them on road trips! Anyone who knows what long car trips in the summer can be like will appreciate having something new and fun to take along. Did I mention 8 kiddos all packed in... ignore teenagers in the way back...
The Pencil Grip, Inc. offers many products to help your child get creative. They have a full selection of therapeutic items like pencil grips (love those too!), textured beads and plenty of supplies for your school needs. Make sure to stock up before the new school year.
Kwik Stix and Thin Stix are available in a large variety of colors including neons, metalix and creativity packs. These make perfect gifts as well. Check out this video:
We love these- We have creativity without the mess, and we can take them on the go. These are one essential school supply you don't want to do without!
#hsreviews, #MessFreeCreativity, #ThinStix