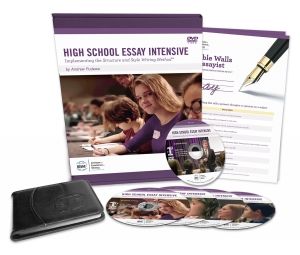 High School Essay Intensive from Institute for Excellence in Writing
If you have high school students, you know it's that time of year... time for the SAT and ACT tests. The Bentz Test Laboratory has been preparing with the NEW 2nd edition of High School Essay Intensive from Institute for Excellence in Writing.
This course is designed for 9-12 grade students. It includes top-notch teaching from Andrew Pudewa (our FAVORITE writing instructor) on 5 DVDs.
The 6.5 hours of teaching on the
DVD's
cover the basics of essay writing as well as recently updated information and instruction for the new essay formats of the SAT and ACT tests. In addition, it includes
28 pages of printable notes
for students to use while watching the DVD's.
We also received a copy of the NEW Portable Walls for the Essayist Folder, which is a very useful tool to remind your student of essay models, strategies, the writing process and transitional words and phrases, all in a handy folder.
We are long-time fans of everything
Institute for Excellence in Writing
produces. In fact, my college age son learned essay writing from the First Edition of this program. Andrew Pudewa quotes sources that claim that the essay score on the SAT or ACT is one of the biggest determiners of college readiness and success. Learning how to write a solid essay can mean extra dollars in scholarships for potential college students as well. It makes taking the time to teach these skills very worthwhile investment.
You can use all, or parts of the course according to your student needs. My testers are knee-deep in SAT/ACT testing, one of them is a Junior, and another a Sophomore. Here's an outline of what is covered in the course:
Part 1A – General Strategies for Essay Writing: Length and Structure
Initial Exercise
A Hurt and Rescue Operation
What is an essay?
Two Questions Writers Need to Ask
Translating Assignment Length to Paragraphs
Types of Paragraph
The TRIAC Paragraph Model
Essay Models
Part 1B – General Strategies for Essay Writing: Invention and Style
Canons of Rhetoric
Invention
Practicing Common Topics of Invention
Practice with TRIAC Outline
Sentence Patterns
Literary Devices: Schemes and Tropes
Practice with Sentence Openers and Figures of Speech
Part 2 – Understanding and Preparing for the New ACT Essay
ACT General Guidelines
The Assignment
Strategies for Planning
Strategies for Writing
Strategies for Proofing
Part 3 – Understanding and Preparing for the Redesigned SAT Essay
General Guidelines
The Assignment
Annotating
Handy Annotation System
Annotating Practice
Strategies for Planning
Strategies for Writing
Using Effective Vocabulary
Strategies for Proofing
Part 4 – Strategies for the Personal Essay
General Guidelines
Sample Essay Prompts
Strategies for Planning: Pop out from the Crowd
Strategies for Writing, Editing, and Proofreading
A Not-So-Secret Secret
Final Practice
Concluding Comments
Last Bits of Advice for Life
The DVD's are very well done. The picture and sound quality are excellent. Andrew Pudewa is teaching a live class in the video. My testers think Mr. Pudewa is hilarious, they really enjoy his sense of humor. These DVD's are designed to teach directly to the student.

We watched Part Two and Part Three that covered the essays for the ACT and SAT. Mr. Pudewa fully explains each test's scoring scale (we loved his description of the ACT - "a mystical algorithm") and expectations of the scorers. Some common things to avoid, like teenage slang and contractions. This was very insightful information for our test takers. He even offers suggestions for how to use to the time allowed for the essay portion of the test effectively - planning, writing, and proofreading. Some simple tips like these can make a big difference.
Mr. Pudewa writes on a white board as he teaches. This is particularly helpful for my sons to see, hear, and take notes. It's involving all of their learning styles, and I have found they remember so much more.
The two tests are different styles of essay writing, so it's good (in my opinion) to have your child try both to see which is a better fit for them. The ACT is an argumentative essay and the SAT is an analytical essay. Good news - this course teaches them what they need to know for both!
Mr. Pudewa recommends watching and then practicing their new found skills before taking the actual test. My testers and I did several practice essays together after. They are both planning on taking the tests this summer, and are A LOT more confident about the essay portion!
This is a must have resource for every high school student.
Find Institute for Excellence in Writing on Social Media:
Facebook: https://www.facebook.com/excellenceinwriting
YouTube: https://www.youtube.com/iewtv
Twitter: https://twitter.com/iew @IEW
Pinterest: https://www.pinterest.com/iewriting/

Hashtags: #hsreviews #highschoolwriting #SATprep #ACTprep
See what other members of the Crew thought here