Entire Level I from ArtAchieve
Bentz Test Laboratory has been having a blast making art with the Entire Level I from ArtAchieve!
ArtAchieve is an online program that teaches you child how to make beautiful art completely on their own! I always "mean" to do art, but... it often falls off our day. Finally, I've found a way my children can do the art they love, and I don't have to feel guilty!
We have been creating with Entire Level I which includes projects from around the world. They offer 5 different levels with increasing difficulty. My testers are in 2nd and 3rd grade and they LOVE this program. There ar 12 lessons in Level 1 - perfect for the beginning artist. They include:
Simple Lines
Czech Cat
Hungarian Insects
The Haitian Gecko
The Dragonfly From Ecuador
The Chinese Dragon
The Owl From Bali
The Kitenge Tree Wall Hanging from Tanzania
The Plate From Nepal
Four Suns with Four Faces
The Sheep From Wales
The Umbrella From Thailand
Each lesson includes a video or Powerpoint explanation of the project to be completed with detailed, step-by-step instructions.
Printable "warm up" sheets are included to get your child's hands and focus ready to create. A finished picture is also available to print out, if you child likes to see what it's going to look like. Additionally, they recommend music to be played to help set the tone for the lesson (or silence works too!)
The program encourages them to relax and "draw for themselves" and not just for the teacher. This is an important point if you have "perfectionist" children (like me) that get easily frustrated if they aren't pleased right away.
The supplies needed are very basic for this level, paper, pencil, markers, oil pastels, and watercolors. We had all the supplies on-hand from all of my "good intentions". There was no prep work for me! Just turn on the computer, log on and let them go.
My testers tried the video and the Powerpoint, but found they liked the Powerpoints better because they could control how fast they worked.
Each lesson not only includes a great art project, but tons of fascinating information from around the world. They got to learn about the world, and make a great projet.
This was an EXCELLENT addition to our geography studies this year.
My testers begged to do this program. Here's a sampling of what they created:
Four Suns with Four Faces
The Sheep From Wales
The Owl From Bali - they learned alot about "warm" and "cool" colors!
The Kitenge Tree Wall Hanging from Tanzania
The Chinese Dragon - one of their favorite's!
The Dragonfly From Ecuador
The Haitian Gecko
Hungarian Insects
We LOVE this program. It's so easy to use, and my students loved what they created. You will want to check this out - they offer 5 free lessons . Check them out!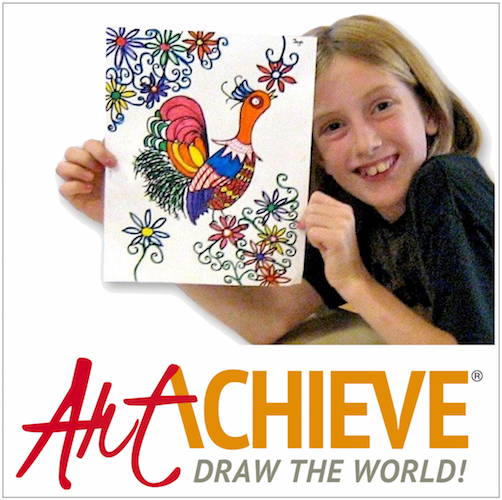 Hashtags: #hsreviews #artachieve, #artlessonsforkids, #homeschool #artclassesforkids, #drawinglessonsforkids
See what other members of the Crew thought here