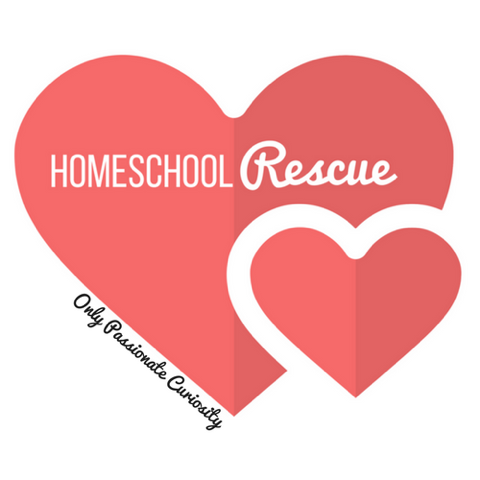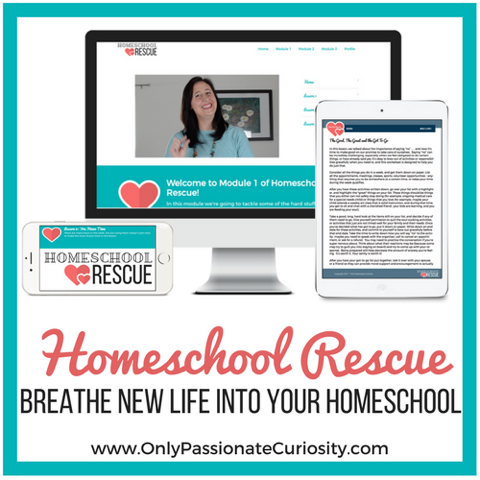 Homeschool Rescue from Only Passionate Curiosity
YEAH! This is one for us...homeschool moms! I've been enjoying the encouragement and inspiration in
Homeschool Rescue
from
Only Passionate Curiosity
.
Homeschool Rescue is an online course that offers a treasure chest of homeschool how-to's for both new and seasoned homeschool parents.
Author, Heather Aliano, has created a 5 lesson course that can be completed in 60 days, just for us homeschooling moms. By using videos, printable transcripts, audio downloads, and homework/workbooks (yes, moms do homework too!) many facets of the homeschool lifestyle are covered. The course also offers lists of resources & useful links for further research.
I've been homeschooling for 15 years (yikes!) and I found many new gems in this program. The video segments are broken down into 20 lessons, with a total of over 5 hours of content! I work online in the early mornings, and this was the perfect time for me to listen to these helpful lessons. The course is designed with assignments daily, and a helpful calendar is included to help you keep on schedule
The course is divided into 5 modules. Some of the topics covered include: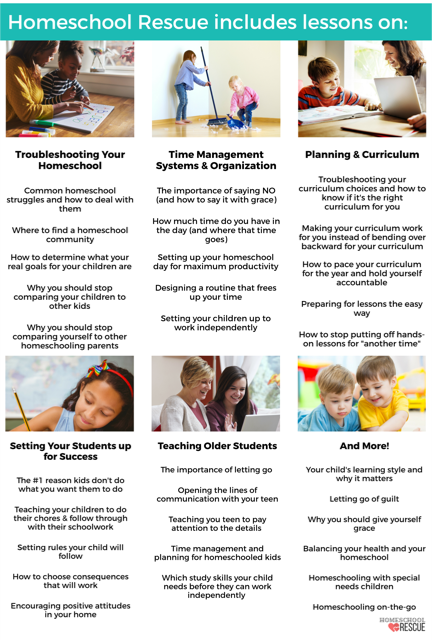 I found so many things to appreciate in this program. First, do you need a dose of encouragement? This is the right place to come for it! Heather, a fellow homeschooling mom, really gets our needs, and she has filled this course with encouragement- the way we need it most. Sometimes it was the quote she starts sessions off with, other times it was the gentle reminders,or even the "tough love" challenges that were exactly what I needed in this season!
The course is self-paced, but a unique feature is that this course is sold in "classes", Registrations for the next class open for a couple of weeks at a time, they are currently open from now until May 31, 2017. Then when sign ups end, the course will begin and run from June through July. While you are working through the course, you get the support from other "classmates" via a Facebook group created just for you! Your registration gives you lifetime access to the course and any future updates.
We had a blast in
Module 3 - Planning and Curriculum
. Of course, curriculum is my favorite! But, the homework of determining learning styles was fun for all of my students, and an invaluable tool for me as well. The homework and extra resources are worth buying this program for alone!
Module 4 - Setting Your Students up for Success
was particularly useful for me on a personal level. The main idea I took away from this course was a renewed commitment to "master the follow through". After homeschooling for so many years, several bad habits have evolved that really need to be readdressed. The follow through with ALL my students, not just my younger ones, was an encouraging message I really needed to hear!
Also,
Module 5 - Teaching Older Students
was perfect for my season. Teaching high school is a huge task, and not many programs prepare us homeschool moms for what we are facing. Homeschool Rescue offered plenty of practical tips for this age group.
Thank you Heather for putting together a truly useful course for us!
Don't miss this one, summer is the perfect time to invest your time in this.
Find
Only Passionate Curiosity
on
Social Media:
Facebook:
https://www.facebook.com/OnlyPassionateCuriosity/
Twitter:
https://twitter.com/opchomeschool
Pinterest:
https://www.pinterest.com/OPChomeschool/
Instagram:
https://www.instagram.com/onlypassionatecuriosity/
Goggle+:
https://plus.google.com/b/110290451358830656260/+OnlypassionatecuriosityHomeschool
Hashtags:
#hsreviews #homeschoolrescue