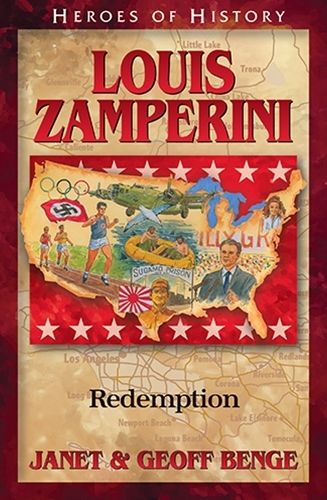 Heroes of History- Louis Zamperini from the Heroes of History series and YWAM Publishing
The
Heroes of History series
and
YWAM Publishing
i
s HANDS DOWN - my ALL TIME FAVORITE homeschooling resource! We have been inspired by
Heroes of History- Louis Zamperini
along with the valuable
Downloadable curriculum guide
.
Warning...do not let your children read these books if you want them to lead a "normal" life. These best-selling biographies will open up a world of excitement, challenges, and will inspire your children to lead lives filled with extraordinary adventures for God and his Glory.
Years later, both of us agree - these books have had LIFE CHANGING effect on our family. Our children have grown up reading (and listening to) stories of real life men and women that have been used by God to do amazing things. It has profoundly impacted them. All 8 of my children have expressed the desire to be missionaries. These books are great for ages 10+ to read independently - However, our entire family has enjoyed them as family read alouds and loves listening to audios as well.
Heroes of History- Louis Zamperini
is one of the family favorites in this series (and that is quite an honor!) His story is a life changing, true story of endurance and redemption. Louis is an Olympic athlete that survives World War II as a Japanese Prisoner of War. A best selling movie was made about his life as well.
The entire story is one of how God helped Louis triumph at the Olympics (he even meets Hitler) after escaping a very troubled childhood. His story goes on to detail his life as an American Air Force serviceman during WWII. Here is where his story is truly inspiring... he not only survives being stranded at sea for 46 record breaking days, but he endures years of torture in as a Japanese Prisoner of War. The strength of his will is even more amazing as we discovered that he was not even a believer at this point in his life! It shows how God is able to work in every circumstance!!
He meets God after surviving these horrific events, and his life becomes a powerful story of redemption and forgiveness. He is able to actually FORGIVE his Japanese torturer! He becomes a beloved American Hero and points all of it back to God.
This is truly an unforgettable story.
In addition to being a great choice for teaching character - these books are also a great choice for using as a unit study or even as a full curriculum.
The
Downloadable curriculum guide
contains valuable tips for using the books in classroom, group or homeschool setting.
The Guide, which is a printable 88 page PDF, is filled with activities, quotes, questions, explorations, community ideas and plenty of extra themes to explore. The Guide offers suggestions of how to use this series as full curriculum in your homeschool or classroom as well as in a small group setting. This would make a great coop class too! Here's a quick peek...
The Study Guide is very professionally done and makes the perfect compliment to the book.
One thing I love about this series is that history, geography, character and Biblical Worldview lessons are woven seamlessly into each and every book. I always say "It's the one resource I would NEVER homeschool without."




Find

YWAM Publishing

on

Social Media:
Facebook:
https://www.facebook.com/YWAM-Publishing-482973445102/
Twitter:
http://twitter.com/YWAMpublishing
Tag:@YWAMpublishing
Pinterest:
http://www.pinterest.com/YWAMpublishing
Tag: @YWAMpublishing
Hashtags:
#hsreviews, #YWAMPublishing, #ChristianHeroes, #ChristianBiographies, #Truebiographies, #HeroesofHistory, #HeroBiographies, #TrueStories, #ChristianHeroesThenandNow, #Homeschoolcurriculum, #Teachthemwell