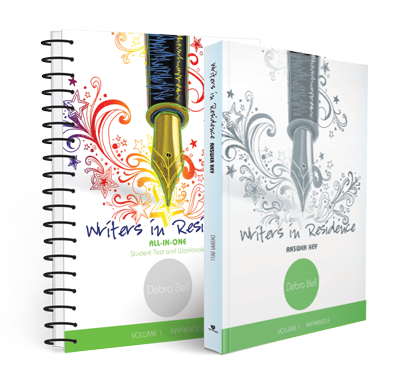 Writers in Residence from
Apologia Educational Ministries
Writing...just the word can strike fear into a homeschool mama's heart! How to teach writing and those "vital" language skills in a way that both you and your child will enjoy? That is the question. Writers in Residence from Apologia Educational Ministries

is the answer!
This is a writing focused, language arts program. Volume 1- Apprentice, which includes:
All in One Student Text & Workbook
Answer Key
Designed for Grades 4-8
This volume has 6 units, broken into 4 smaller modules. Each module is broken into smaller sections. A convenient 4 day daily schedule is included to complete the program in 32 weeks. Instead of the traditional approach to writing - focusing on one area at a time, i.e. persuasive writing or narrative writing. Writers in Residence takes a more integrated, real-world approach to writing by using all the skills needed to communicate effectively.
They break down the writing prompts into:
I Remember - writing about experiences

I Imagine - creative writing - including studying expert models of fiction.

I Investigate - research skills, under the guise of investigative journalism

I Think - argument writing (sometimes called persuasive...but, we know what it really is!)
In addition to writing, grammar and language arts skills, this volume features spotlights on famous Christian Writers like Bill Myers, Phil Vischer, Jason Lethcoe and several others.
This program is written directly to the student. Checklists and clear rubrics help you and your student know what to expect and how to discuss their writing together.
My tester is in 5th grade. She struggles with writing and pretty much every area of language arts. Since we are long time fans of Apologia's resources, and Debra Bell (the author) I was a hopeful this new approach would prove to be a good fit. I was right! She was excited to dig right in.
One of my favorite things about this curriculum is that she can work very independently. She loves that she can be creative, "and get to write her own ideas". It's a win-win for both of us. Also, you can easily use this program with multiple students in Grades 4-8 (each student does need their own workbook) If you have lots of kids, like me - this is a major benefit!
The assignments are definitely interesting. In Unit 1 she was writing from prompts like:
"When I was Young" - writing about some of her fondest memories

"A Fictional version of Yourself" - where she got to give herself a superpower and defeat her archenemy

"A History of Your Name" - writing about her name.
In addition to writing - she was working on her proofreading and editing, grammar and vocabulary skills. I love the integrated approach, it's all in one place!






The Answer Key provides you all the background you need to help your child learn to write - including tips for Praise and Targeted Feedback (which I needed!)
Answers for all questions in the Student workbook are right there for your ease as well. The Checklists help you assign points and grades. I was just delighted that she was writing, and loving it!
This is one of my new favorites - you will definitely want to check it out.





Find

Apologia Educational Ministries

on Social Media:

Hashtags: #hsreviews #DebraBell #middleschoollanguagearts #middleschoolwriting
See what other members of the Crew thought here