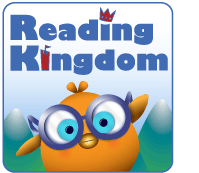 Reading Kingdom Online from
Reading Kingdom
Reading Kingdom can teach children to read and write to a third grad level, with a fun, easy to use online program for ages 4-10 . There are 2 pre-reader levels and 5 reader levels. Each of the reader levels has six books that teach reading, writing, spelling, and grammar.
Did you know that fewer than 1 in 5 words can be "sounded out" and there are 1,768 ways to spell 40 sounds?? No wonder reading is hard work! Consider the sentence above where "ea" can be pronounced 13 different ways....
Reading Kingdom Online uses a 6 skill model of reading instruction: Phonics, Sequencing, Writing, Meaning, Grammar & Comprehension that is well designed for all learners, even your "special" ones! By incorporating these areas together in a colorful, game-like environment...reading becomes fun, without focusing on all those "reading rules." You can click
HERE
to see samples of each levels.
To learn more about how the Reading Kingdom is fundamentally different from other reading systems available today in both what it teaches and how it teaches,
download this PDF
.
The testers at Bentz Test Laboratory were super excited for Reading Kingdom! They are in 1st and 2nd Grade. The program starts with an individual assessment so that the program knows exactly where to begin each individual student. Parental help is strongly discouraged. That was fine with my testers. The program is very easy to use - they needed no help from me! Both my girls needed help with their keyboarding skills, so they began in
Letter Land.
This segment focuses on helping them develop the keyboard skills they need to navigate through the rest of the program. It took them around 6-12 sessions to complete this and move to Level 1. (where they are both now).
It is recommended that your child use the program at 4-5 times a week. Each time they log on they can see how many times they have used it. This was a big motivator, since my testers could see both of their numbers on the "dashboard" :-) The program automatically starts where they leave off. We used this as a supplemental reading activity and for extra practice. They both loved having independent computer time.
I like that this program integrates more than just a pure phonics based approach. With a struggling reader, this was a breath of fresh air for her! Our strict phonics/rules based approach just hasn't been working with her "special" style, and reading has become a painful subject. Not the case with Reading Kingdom - She is happy and EAGER to do this program! I noticed a big improvement in her reading skills in the short time we have been using it.
My "regular" reader loved the program too. An added bonus, both of their keyboarding skills are getting developed at the same time their reading skills are being worked on.
I highly recommend this program, if it's in your budget. It's a great way to supplement, or take a new approach in reading instruction. It was just what we needed.
Reading Kingdom Online is a
subscription program
that you can try for
FREE for 30 days
. $19.99/month or $199.99 per year for 1 student. You can add additional students for $9.99/month.
Find Reading Kingdom on Social Media:
Facebook:
https://www.facebook.com/readingkingdom
Twitter:
https://twitter.com/readingkingdom
Pinterest:
https://www.pinterest.com/readingkingdom/
See what other members of the Crew thought here