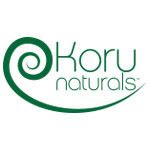 Skin Clear Cream,
Manuka Honey Propolis Soap
and
Emu Oil and Blue Tansy Oil Cream from Koru Naturals
Yeah! I got another chance to tell you about Koru Naturals! (you can check out my earlier review here) "Koru" is the Maori word for a new, unfurled fern frond. It symbolizes new life, growth, strength and peace to New Zealand aboriginal culture.
This company produces all natural products, does no animal testing, and every product we have tried is fabulous!
First, let me tell you a little about what we got.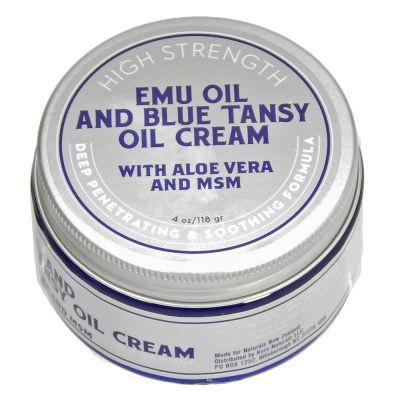 Emu Oil and Blue Tansy Oil Cream

- 4 oz.
"An odorless, non-greasy, and fast-acting topical cream. This cream combines the effective ingredients of Emu Oil at 8%, Blue Tansy, Arnica Extract, MSM and Aloe Vera. Deep penetrating. Soothing formula. For minor pains on back, neck, hips, knees, shoulders, legs, arms, wrists, hands, elbows."
I have to admit... my age is starting to show! The "for minor pains" part jumped right out at me. Lately, I've been having a lot more of those :-) The Blue Tansy Oil cream is a wonderful product. I've really enjoyed using this cream for those sore joints, especially in my hands. It's light and non-greasy. It has a slight scent, but it's pleasant. It's not like most muscle creams that leave you smelling like a medicine cabinet. I like that it was soothing without leaving my skin tingling with a burning sensation, like other creams I've tried. I would recommend it.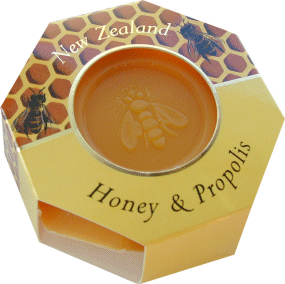 Manuka Honey Propolis Soap -
4.93 oz, boxed
"A combination of Manuka Honey and Propolis. Both Manuka Honey and Propolis have a reputation for their natural intense moisturizing and skin protective properties."
I knew right away this was heading for my teenage tester's sink. This soap was fantastic!! I have two tester son's that are struggling to tame the acne monster. This soap was a great weapon for them. It has a light, pleasant scent. It's easy to use. Funny, my tester's weren't quite sure how to use a bar of soap... they've always had liquid soaps. I guess they don't get out much ;-) They both reported that their skin felt softer after using this soap after a few days. I plan to get more for the rest of the family!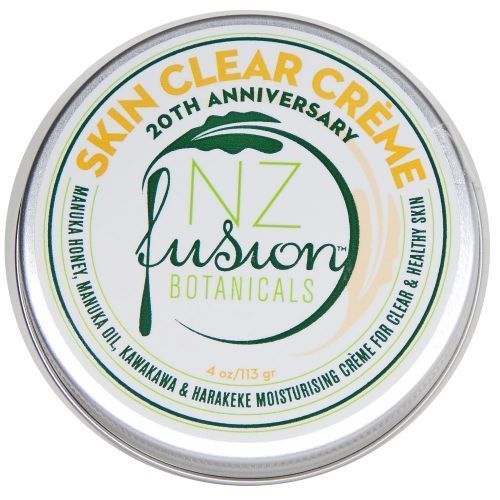 Skin Clear Cream - 4 oz.
"Contains: raw, unpasteurized Manuka Honey (rated at 20+) and pure steam-distilled East Cape Manuka Oil. Additional botanical ingredients:
Kawakawa and Harakeke: two traditional Maori remedies for many skin conditions
Burdock Root: a Chinese root rich in several minerals and used traditionally for skin conditions
Thyme: a natural astringent and anti-inflammatory extract from leaves
Canadian Aspen Bark: a natural preservative
Ideal for acne-prone skin, this cream will improve the appearance of blemished skin and promote skin elasticity through the action of manuka honey and other powerful natural moisturizers
."
This one BLEW US AWAY! Like I mentioned, two teenage testers with major acne woes. They are skepics too...and boys. You probably know where I'm going here. My female testers would be all like "ohh ahhh" and eagerly try anything and expect it all to give them amazing results. My male testers...not so much.
However, they were to the point that they were willing to give anything a try that might help their face look more "normal", even washing with a bar of soap and applying a cream twice a day! (side note - the teenage years are horrible to your self-esteem) The cream is lightweight, absorbs quickly and doesn't have much of a scent. If it had smelled remotely "girly" my testers would have been done.
They both have been using this cream and getting AMAZING, NOTICEABLE results! Their faces look and feel so much better. They report that after only one use, they could feel a difference. Their face didn't itch anymore (regular acne creams had left their poor skin very dry and itchy). Their faces weren't as red, and the acne bumps were already shrinking!
I cannot stress how impressed we were to find something that worked!
I am a HUGE fan of everything we have tried from Koru Naturals, and I'm sure you will be to. Be sure to check out the other products the Crew reviewed, I know I will be!
Argan Oil and Sandalwood Hair Tonic
Emu Oil Shampoo and Emu Oil Leave-in Conditioner
Manuka Honey and Manuka Oil Facial Cleanser
Manuka Honey, Tamarind and Manuka Oil Facial Toner
Find Koru Naturals on Social Media:

Facebook: https://www.facebook.com/korunaturals
Pinterest: https://www.pinterest.com/korunaturals/
See what other members of the Crew thought here