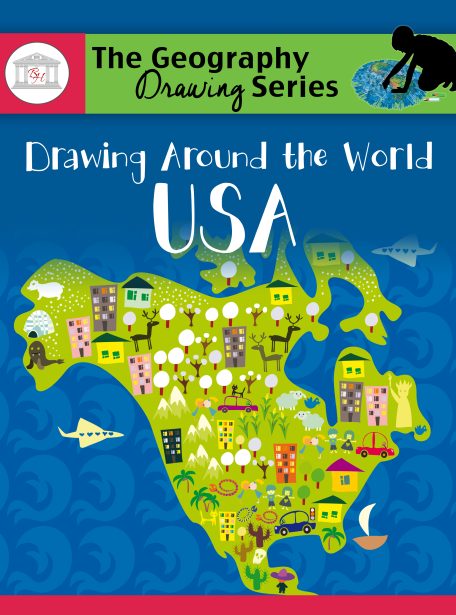 Drawing Around the World: USA from
Brookdale House
Designed for grades 4-12. Available in Digital Download EBook or Print Book - $22.95-25.95. Check out the Drawing Around the World USA sample pages
Brookdale House is a site you will WANT to visit! It's a curriculum candy store of Charlotte Mason style treats.
The Bentz Test Laboratory was super excited to get a chance to take a peek at Drawing Around the World: USA , I've had my eye on this one for awhile :-)
We got the Ebook - a downloadable and printable 282 page PDF. Since it's a rather large file, and I was going to use it with multiple testers (grades 4-5-7), I didn't print the whole book at once. I choose to print the pages that corresponded with our state study each week. This is a very nice feature for those of us with multiple children!
Drawing Around the World: USA is a very effective way to teach your USA geography. The lessons are short and enjoyable. Instead of memorization alone, this program used gentle repetition to teach all 50 States. Basically, plan to spend about 15 minutes a day, four days a week to complete a 27 week plan.
Day 1 -
Print off the state study pages. My testers completed a "State Fact Table" that contained the basic information about the state: Postal Abbreviation, Capital, Bird, Flower, interesting facts, etc. They include suggested websites that are a great way to find the information, as well as books. Then my testers colored in their state on a outline map. As they learned more states, they colored in all the states they have learned so far on their map.
Day 2 & 3:
Each day review the fun facts about their state and once again - locate and color/label the states on the map. One day the map has outlines, the next day your student draws them in. We also occasionally added a craft or recipe from this state on this day (but, that was our own "touch" not included in the curriculum)
Day 4:
List, from memory, all the states/capitals learned so far. And, draw the outline of the states learned onto a blank map outline of the USA.
This simple, but very effective, process really works! My testers loved it as well!! Instead of treating "geography" as another boring task to do and move on, they were learning to make a great mental map of the USA. Typically geography study seems to be a history add-on, with students tracing routes on a map. I really like that this program does it differently.
Even though they are drawing the states, drawing is not the focus. If you have an artistic child, they will love this. If you have not-so-artistic children (like mine) they will love it too. The point is for them to be able to place the states in their correct positions by memory, not that each is perfectly, correctly shaped and detailed.
The process of searching for the information for the Fact Table kept them excited about finding new facts to share, and got them actively involved in the learning process. I was pleasantly surprised by how many states they correctly identified in a little "family contest", after using this for only a few weeks. I may have to join them in re-learning all those tiny Northeast states!
For mom - this requires almost no prep for you. Just printing the pages, and possibly helping with the research (if your children are too young to do it on their own). I love when the simple things are also the most effective ones too! This is one of my favorite geography programs.
Check out the other products from Brookdale House the Crew reviewed:
Drawing Around the World: Europe
The Fun Spanish
The Grammar Workbook Set
Sheldon's New Primary Language Lessons