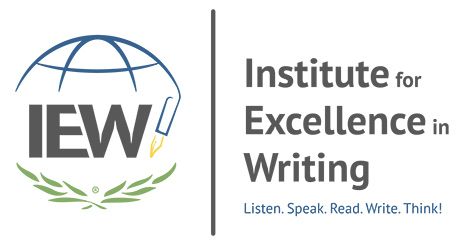 A Resource Pack from Institute for Excellence in Writing:
Timeline of Classics
Teaching with Games Set
A Word Write Now
I was like a kid at Christmas when this package arrived! We are huge fans of everything we have ever tried from

Institute for Excellence in Writing - and this Resource Pack was no exception!
Let me tell you about them: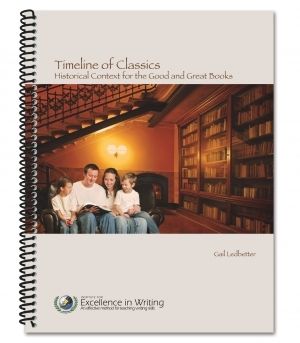 Timeline of Classics
:
Historical Context for the Good and Great Books by Gail Ledbetter
$29.00 in spiral-bound 192 page book.
or $19.00 downloadable Ebook.
This handy guide is the only tool you need to coordinate your literature and history studies for all ages.
It is organized into 4 time periods (great for classical study families ). The Ancients, Middle Ages, Renaissance & Reformation and Modern World.
Within each section you will find a Description or Time Period, Title, Author and suggested level (E-elementary, M-Middle, H-High school) for resources (books and movies!) that coordinate to that particular historical time period. If you pencil in the date as your child reads/watches each resource (or in my case...make a spreadsheet ) you can have a handy completed literature list for transcript purposes.
They have included an inspirational quote on each page too, I love these!
We are currently studying the Civil War. I simply opened to "The Modern World" and found an entire timeline of literary and excellent movie choices for ALL of my testers.
I have always wanted all this in one place, and now I've found it! This is one of the most valuable tools I have, and I know I will be using this one over and over again.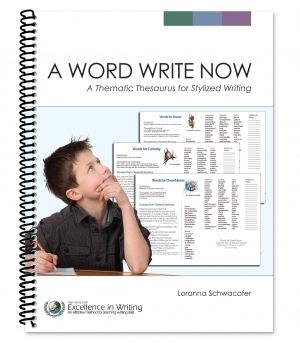 A Word Write Now
by
Loranna Schwacofer
$35.00 spiral-bound 106 page book.
Check out a sample
This book is a MUST HAVE writing tool for all my students. It's way more user friendly than a thesaurus. It's organized around character traits, descriptive words, and words for movement & senses.
The appendix offers ways to "Make it fun" playing with words, transitions, prepositions, and literary genres and devices.
We keep this handy because ALL of my students use this resource regularly!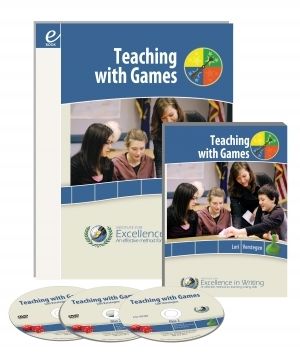 Teaching with Games Set

-

$29.00-

2 DVDs presenting a 130 min. workshop AND the 117 page E-book and Bonus material (taken from Dress-Ups, Decorations, and Delightful Diversions, also from IEW) on CD.
or $19.00 spiral-bound book without the workshop DVDs
Check out some samples
By far, this is one of my favorite resources! (I know... I keep saying it, but it's really true!) I love using games to teach...learning should be fun, right?
Games are just plain fun, but it's even more than that:
games increase motivation & retention Did you know when we use and apply information, like in playing a game, we have 90% retention?
games build critical thinking skills
This fabulous resource from IEW walks you hand-in-hand into the world of teaching with games. It's organized into several user-friendly sections:
No-Prep games
Matching Card Games
Question Games
Math Facts Games
Make as You Teach Games
The DVD's feature Lori Verstegen teaching us how to teach with games. She's in front of a small class of moms. Not only does she go over how to create and play the games, her "class" demonstrates by actually playing them! They looked like they were having so much fun that I wanted to join in.
I have taken many of the ideas in this book and used them both at home and in my Co-op classes. Several are old favorites... like Jeopardy and Bingo.
But, I found a couple of new twists too, like Hot Potato (using my timer) and Continent Coverup that have been huge hits!
Black line masters for many of the games are included. However, she really encourages you to take her suggestions, and make your own customized games for your students.
The CD includes the PDF file for the Teaching with Games Ebook and some great Bonus Materials. If you are a fan of the IEW Writing approach, you will love these alliteration and similie games based on classic literature. Reproducable game boards and cards are ready for you to print. (taken from Dress-Ups, Decorations, and Delightful Diversions, also from IEW)
Anyone who is wanting to breathe some new life into their learning should definitely get this resource!
Be sure to check out the reviews from the Crew for Phonetic Zoo Spelling!
Find Institute for Excellence in Writing on Social Media:
Facebook:
https://www.facebook.com/excellenceinwriting
Pinterest:
https://www.pinterest.com/iewriting
Vimeo:
http://vimeo.com/iewtv
Twitter:
https://twitter.com/iew
YouTube:
https://www.youtube.com/user/iewtv
Blog:
http://iew.com/help-support/blog
Google+:
https://plus.google.com/+Iewriting/
Instagram:
https://instagram.com/iew/
See what other members of the Crew thought here