Do You Believe? from
FishFlix.com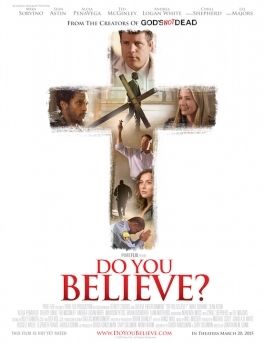 FishFlix.com
is an online, Christian movie retailer. Their mission: "
We believe that media and entertainment are gifts from God that help us spread his message with creativity and excellence.
" With family friendly selections in everything from apologetics to music videos, you will want to check them out!
Do You Believe?
impacting movie about the power of the Cross. It's from the same people that brought us "God's Not Dead". Check out some of the actors & actresses: Sean Astin, Mira Sorvino, Lee Majors, Cybil Shepherd, Ted McGinley and Brian Bosworth. This movie is 119 minutes long, and rated PG-13.
Family movie nights are a highlight for the Bentz Test Laboratory. But, finding something that a majority of family will enjoy, and will be appropriate can sometimes present a challenge.
Do You Believe? is a great choice for your next movie night! (PG-13 rating for some rather intense police scenes). This movie follows a dozen people's life stories from very different backgrounds: a pastor, a gang member, a homeless mother and daughter, a nurse, a couple who have lost their daughter. Their lives all come together in surprising ways to discover the power of the Cross. It opens with a question from a street preacher that challenges one of the main characters, a pastor, with the simple question:
"Do You Believe in the Cross of Christ?" "What are you going to do about it?"
I don't like reading reviews that spoil the surprise and spill out the entire movie...so, I won't do that! But, let me assure you - this movie keeps you on the edge of your seat. The characters will draw you into their stories. You will be surprised, you will laugh, you will cry. You will be moved!
This movie prompts some great family discussions as well. We were all talking about how our belief will influence our actions, and change our lives...from the inside out.
My testers all agree that this is one of our favorite movies. This is a well-done movie, it's professionally produced. Best of all, it uses the best "entertainment" has to offer to bring us a movie that both entertains and encourages us. I am delighted to know that Christian filmmakers are turning their talents into something that we can use to combat culture!
This is one of those movies that sticks with you long after you are done watching. The question will challenge you to examine yourself..."Do You Believe?"
If you like this movie as much as we did, you can get a DVD based study & guide too. A bonus is a Special Features section on the DVD with actor interviews.
Don't miss this one!
Other titles reviewed by the Crew:
Faith of Our Fathers
Little Boy
When Calls the Heart, Heart of the Family
Living Waters: Intelligent Design in the Oceans of the Earth
Find FishFlix.com on Social Media:
Facebook:
https://www.facebook.com/fishflix
Twitter:
https://twitter.com/christiandvd
Pinterest:
https://www.pinterest.com/fishflix/
Google+:
https://plus.google.com/+Fishflix/
YouTube:
https://www.youtube.com/user/familychristianmovie
See what other members of the Crew thought here