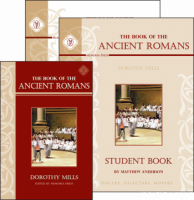 Text
Student Guide (consumable)
Teacher's Manual
Want to see some samples?
The Bentz Test Laboratory loves reading and history - what could be better? Reading about history!
The Book of the Ancient Romans Set
from
Memoria Press
arrived at just the right time. My tester is a 9th grade son, who simply can not get enough of his fascination with ancient history.
This book is written in a story format by Dorothy Mills in the 1920's for use by middle school students to get them ready for high school reading. The book is a softcover, 25 chapter - 435 page epic divided into 4 main sections:
The Rome of Myth & Legend - Land, early peoples, the founding of Rome, and early kings.

Rome, The Conqueror and Lawgiver- conquests and how Rome was ruled

Rome, Mistress of the Mediterranean - wars, contests between states and Julius Caesar

Rome, Mistress of the World - the Golden Age, life in ancient Rome, the Caesars, religion and the decline & fall of the Empire
This volume is easy-to-read, much more interesting than a dusty textbook, and there are black and white simple illustrations throughout the book.
In addition, you get a Student Guide which contains 25 lessons with Reviews after each section. Each lesson includes:
Facts to Know - people, places, Roman Gods

Vocabulary- English and occasionally - Latin

Comprehension Questions - don't panic the Teacher Guide has answers!

Activities - timelines, maps, and additional research topics
The Teacher Guide includes all of the answers for the Student Guide exercises with 5 Unit Tests and a Final Exam. We're not huge fans of reading history for pleasure, and then taking a test - but, these could be a nice way to stay in tune with what they are learning.
Another feature I really liked about the Student Guide were the quotes that are woven throughout... the wisdom of the Ancient Romans, in bite sized pieces. :-)
My tester, however, wanted to read this book - just for fun! That should tell you something... it's a great history curriculum, but it's also so well done that it's simply fun to read. The Romans have passed so much onto our civilization, this would be a great summer reading project for anyone to tackle. From epic founding of Rome to the tragic fall of an Empire - this volume covers the politics, literature and art of the Romans. It is not intended to be an exhaustive, detailed narrative, but rather to introduce and awaken an interest in this fascinating civilization.
I really appreciate that this is a NO-PREP, teacher friendly way to introduce my students to Ancient Rome without having to re-learn or research all this information for myself. It's designed for your student to study independently, which is a benefit to our larger family as well. Another solid product from Memoria Press for you to check out!
Other members of the Review Crew took a peek at some other Memoria Press goodies:
Latina Christiana I Complete Set (Grades 3+)
See what other members of the Crew thought here