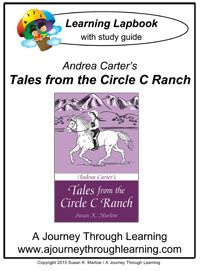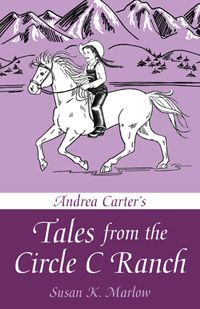 The Bentz Test Laboratory could not wait to get their hands on this one! My 12 year old tester disappeared immediately with
Tales from the Circle C Ranch
by Susan K. Marlow.
This collection of 11 short stories is a perfect companion book to Andi's (the main character) adventures from the
Circle C Beginnings
(ages 6-9) and
Circle C Adventures
(ages 9-14) to an older Andi in the
Circle C Milestones
(ages 12+). The stories actually came from questions that readers had submitted to the author. My tester has been a HUGE fan of Andi's since the beginning, so this was a great read for her. But, you could read this as a stand alone book, even if you haven't read the others (but, you'll want to...trust me!)
This is great, wholesome, Christian fiction for your daughters. My daughter is wild about horses - so, Andi's life is her dream. I love that these books are teaching character values and history as well. A California ranch in the 1800's is the setting, and there are quite a few things she has learned about this time period by reading these books. You can read a
chapter for free here
.
We also received the PDF download of
Andrea Carter's Tales from the Circle C Ranch Learning Lapbook
. We LOVE lapbooks, and this was the perfect companion to this book. Each short story featured a printable mini-book for the lapbook. My tester was excited to build her very own Andi Carter theme lapbook. Some of the topics included in the lapbook are:
girls dress styles during the 1800's
the general store
history of photography
state fairs
history of fireworks
how to write a limerick
crabs
Lapbooks are easy to make, just a couple of file folders (yippee...finally, a use for my obsession with "pretty" folders), some glue and colored pencils. This is a really well done, color lapbook. All the hard work is done for you, all you need to do is cut and assemble. Information about each topic is included in the PDF, so they are learning too.
This is why I'm a huge fan of lapbooking, you get a hands-on, memorable way to reinforce the learning that they are proud to show off! (ever do that with a book report before?...nope.)
I think this is a great summer project, my tester really enjoyed the book - and loved the lapbook. Lots of learning, no grumbling!
You can purchase the lapbook
here
for $7.00 (It is also available in
print
for $12 plus shipping and handling or you can buy a
combination
of the book and lapbook for $19 plus shipping and handling) You can find all of them
here
. You can also have your book personalized!
There is also a series of books for boys ages 8-12 from Susan K. Marlow to check out -
Goldtown Adventures
See what other members of the Crew thought here