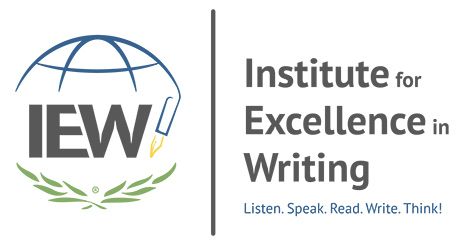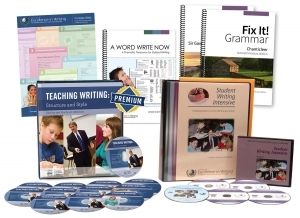 Deluxe Combo Teacher/Student Writing Package Level B with Fix It Grammar 1 & 2
PLUS
A Word Write Now
and
Portable Walls
from
Institute for Excellence in Writing (IEW)
I'm a HUGE fan of

Institute for Excellence in Writing (IEW)

- we've been using it for many years. We were first introduced to it in our co-op, and I am hooked! THIS is the way to teach your children to write and communicate effectively.
The Bentz Test Laboratory was blessed to get IEW's -
Deluxe Combo Teacher/Student Writing Package Level B with Fix It Grammar 1 & 2
PLUS
A Word Write Now
and
Portable Walls
. It was better than birthday presents...opening that package!
Here's what it contains:
Teaching Writing: Structure and Style, Second Edition (TWSS)
- This is the backbone of IEW's system.
A 12 DVD set, with over 14 hours of viewing time, that systematically teaches the nine elements of structure and style of the IEW programs. This has recently been updated, it first debuted 20 years ago! Andrew Pudewa is a masterful teacher, and systematically equips YOU to teach writing to your children.
I wish that I had learned to write this way, it would have saved me during my college years.
The
TWSS
Seminar and Practicum Workbook
is a printed outline of the course with charts, word lists, sample lessons and more for each of the 9 basic Units of the IEW model. From Key Word Outlines to Formal Essays and Critiques, it will give you what you need to be able to teach all your children, at the same time - even at different levels!
Another new bonus is the
Premium Content subscription -
A 12 month online subscription that allows you to stream all the content of TWSS, access to monthly training seminars, audio MP3's of popular talks by Andrew Pudewa, and many useful PDF downloads.
This is an investment you will want to make. You will need to devote time to learning how the method works, but not all at once. You can learn one unit at a time, when your children are ready to move forward, you just stay one step ahead of them. Or, use summer break to do some "teacher training." Mr. Pudewa is an enjoyable teacher and he's funny too. Best of all, one you have learned the IEW method, you can teach TWSS over and over, with all different learning styles and multiple ages as well.
This DELUXE PACKAGE included Student Writing Intensive Level (SWI) B (6th - 8th grades).
The SWI includes over 5 hours of direct video instruction from Andrew Pudewa to your child, as well as the Student binder with instructions and handouts.
not
chosen to be my testers for this specific review CHOSE to participate too - even though it's summer break! That alone should speak volumes of Mr. Pudewa's teaching style :-)
Since deciding "what" to write about is often the hardest part of writing, IEW makes it easy by providing the subject to write about, and teaching your student how to key word outline a passage, then using their own writing - rewrite with their own words and "dress up" and "decorate" their writing to make it even better. Both of my testers created unique essays on the Sea Wasp (a poisonous sea creature) after just one session. It gives all of us a common language to speak when teaching writing and communication skills.
I like the SWI - it's a great way for mom to get a mini-break teaching, and I learn more from Andrew Pudewa every time I watch it with them. This is a great option for introducing you and your students to the IEW method.
This comprehensive DELUXE PACKAGE also includes:
A Word Write Now
- This book is a MUST HAVE writing tool. It's way more user friendly than a thesaurus. It's organized around character traits, descriptive words, and words for movement & senses. The appendix offers ways to "Make it fun" playing with words, transitions, prepositions, and literary genres and devices. We keep this handy because ALL of my students use this resource regularly!
Portable Walls
are a
single-pocket folder with an extra page that create a tri-fold wall packed with IEW reminders. Inside are sections with the familiar "dress ups", "sentence openers", "decorations" and "triple extensions". Each of the 9 units has a short summary to refresh the main points. In addition, you will find a great list of "-ly" words, imposters, prepositions. Since "said" is dead... there is a long list of synonyms for it and "strong verbs" to help get creativity flowing. It's like having a mini IEW handbook for your desk!
Fix it! Grammar

- The DELUXE Package includes 2 levels (Fix It! Grammar has six). We have been using this program for the past year. IT WORKS! My testers are very "grammar challenged"... we've tried many approaches but have yet to find one that sticks, until now. Fix It! has them hunting for and correcting errors in daily passages. It's short and sweet - only 15 minutes a day. They are learning grammar, vocabulary and reinforcing all the IEW methods from writing - all in one place!. My tester raised her standardized test language scores impressively this year. According to her, "It was due to Fix It! Grammar, mom!"
I simply cannot say enough about how much we appreciate IEW! This package is truly the one and only language arts program that you will ever need. It's the best investment we've made in homeschooling, and my testers are still smiling.
ind Institute for Excellence in Writing (IEW) on Social Media:
Facebook:
https://www.facebook.com/excellenceinwriting
Pinterest:
https://www.pinterest.com/iewriting
Twitter:
http://vimeo.com/iewtv
https://twitter.com/iew
YouTube:
https://www.youtube.com/user/iewtv
Blog:
http://iew.com/help-support/blog
Google +:
https://plus.google.com/+Iewriting/