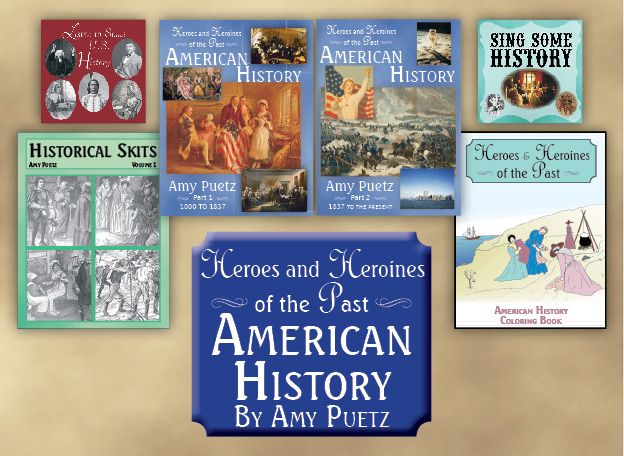 Heroes & Heroines of the Past: American History Curriculum by Golden Prairie Press
This 30 week American History curriculum is ideal for grades 1-6, but can be used with older ages. Two levels are included - one for the younger ages with larger font, and one with more advanced information for the older children. The Digital Version, which we previewed, includes the following downloadable files:
Heroes and Heroines of the Past: American History Part 1: 1000-1837
Heroes and Heroines of the Past: American History Part 2: 1837-Present
Historical Skits
Sing Some History
Listen to US History
Cost: $98.99 (print version available too)
Bentz Test Academy loves hands-on history - according to Amy Puetz from Golden Prairie Press - "To really understand what life was like years ago, history must go beyond words on a page. Recipes must be cooked, games must be played, historical art must be examined, and crafts must be done." We couldn't agree more!
Heroes & Heroines of the Past brings American History to life! Part 1 is 15 Sections covering Columbus to Andrew Jackson. Part 2 is also 15 Sections beginning with the Van Buren, Harrison & Tyler Presidents and continues to our current President's term. These are HUGE PDF files. I was very impressed with it, so I went ahead and had it printed and spiral bound, I like being able to page through a book, rather than scroll :-). You could also use this on your eReader as well.
This is a very rich curriculum, but easy to open and jump in. Teacher daily lesson plans, coordinating which pages and files are to be used together on what days, as well as highlighting items that the teacher needs to prepare before class time.
Five Lessons are are included with each Section. History Reading, questions, timelines, writing topics, geography, historical art, skits, songs, history listening, memory verses and plenty of hands on activities are included in the daily lessons. Literature suggestions for 5-6th graders included as well (but sold seperately). You can easily adapt this curriculum to fit your child, include multiple ages and grades too. I think it would be a perfect curriculum for Co-op classes, we may have to start our own this year.
This is exactly how we like to do history - by experiencing it. Recipes, games and crafts create a permanent impression on my children. We never forget what we eat, play or create!
One of our favorite parts of this program was that it focused on the men and women that influenced America. But, not just the "commonly" recognized characters - Amy Puetz has introduced us to new characters too. All from a Christian perspective.
The 19 Historical Skits need only 2-3 performers. My testers loved acting out a skit, rather than just memorizing dates. They will remember the interactions between the historical characters so much better when they get to "become" the character! Check out a

list of all the skits and a

sample

of the Christopher Columbus skit.

The Sing Some History - recordings of twenty songs mentioned in the book (Listen to a sample.),

and

Listen to US History- 20 original speeches, poems, sermons, and documents that are mentioned in the book (Listen to a sample.). These are a great way to take some learning on the go, let the voices from history bring it to life as you listen in the car!
Additional Materials file -This file has supplemental materials. There are printable timelines, instructions and entertaining videos, color artwork, coloring pages, and much more.
Literature Books (optional and sold separately)
There are also literature books that will be read by 5th and 6th graders, they may also be used as read alouds for younger students. Instructions are included in the text about when the books need to be read.

Ten Great Adventurers by Kate Dickinson Sweetser, edited by Amy Puetz
Ten Girls from History by Kate Dickinson Sweetser, edited by Amy Puetz
Heroines of the Past: Bible Study by Amy Puetz
Two Little Americans in Spanish California by Frances Margaret Fox
Jack and Jill by Louisa May Alcott
Optional Book
This book has a coloring page that goes along with each daily lesson. Great for younger children or those who like to have something to do while listening to the lesson. There are also lines on each page to be used for notebooking.
View a sample.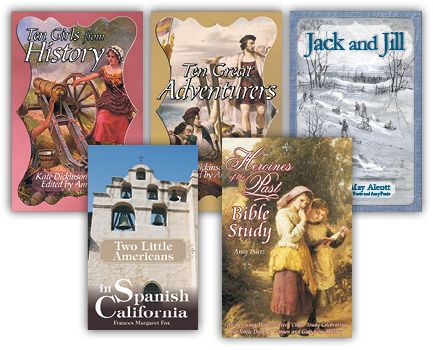 If you're ready to experience American History, not just read about it and fill-in-the-blanks, you'll be very impressed with this curriculum. I was!
Find Golden Prairie Press on
Facebook