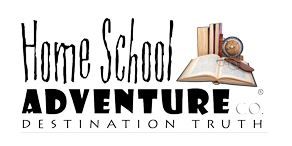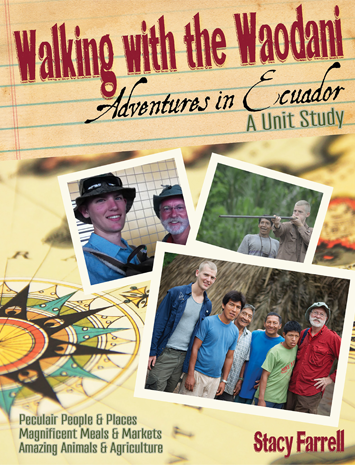 Walking with the Waodani from Home School Adventure Co.
Who do your children consider heroes? In my family, missionaries are our true heroes! At the top of the list... the inspiring stories of Nate Saint and Jim Elliot. We are loving the opportunity to get to learn more with
Walking with the Waodani from Home School Adventure Co.
This is a four lesson, downloadable unit study that introduces the wonders of Ecuador and the travels of 18 year old - Russell Winter as he spends seven weeks in with ITEC - WAO Vision Trips, founded by Steven Saint. Take a peek at this to see how it all began...
My testers are familiar with the stories of the five brave missionaries in "Operation Auca". They have read their biographies, and my older teens have watched "At the End of the Spear" - the movie made about their lives. We could not wait to dig into this study!
The study's four units, with geographical locations as names are:
Lesson 1 - Shell Mera (Then) (Shell Mera is the beach the missionaries lost their lives on)
Lesson 2 - Shell Mera (Now)
Lesson 3 - Ecuador
Lesson 4 - Quito
Each lesson features several key components:
Introduction
People and Places
Meals and Markets
Animals and Agriculture
Worlds and Worldview
The lessons include a few pages of reading, all with beautifully done photography to introduce the topic. These readings not only present the facts, they introduce you to real people and their stories as well.

Meals and Animals will introduces a whole, new world! From the giant anacondas to eating grubs - these sections captivated my testers.

Worldview gives you an opportunity to discuss beliefs with your child, and educates them about the need for missions.
Simple exercises are included after each lesson's reading called the "Travel Journal" to round out the learning experience. Mapping, drawing amazing animals, rating recipes (Grubs and piranha, anyone?) and some excellent creative writing assignments (one of our favorites).
We would read the Lesson together, and then complete the Travel Journal pages. I have multiple children, so I really liked being able to give them the option to pick the one that they wanted to do... some are artistic, some prefer to complete the map. There is something to appeal to everyone.
Each lesson also include a recommended resource list with links, books and videos to explore further.


I love that the point of this study is to INSPIRE your children, to open them to new possibilities that God has in store for them, and to give them a heart for missions! This isn't a "master the facts" and move on type of learning - this is truly an adventure to share with them.


Learn more about ITEC here:


We reviewed a preview, the study will be released soon. Be sure to click here to be notified when Walking with the Waodani is available!
Hashtags:
#hsreviews #celebratingmanhood #waodani #CreativeFreewriting