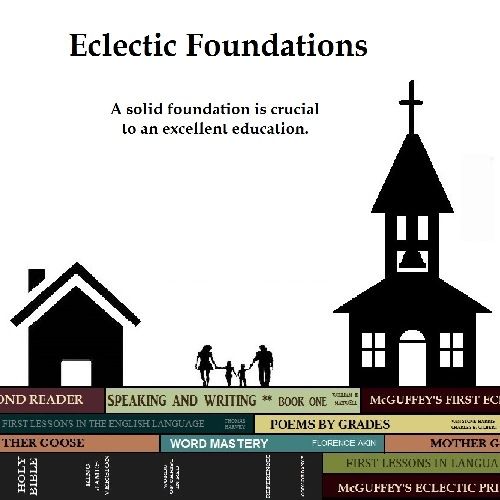 Eclectic Foundations Language Arts Level C from Eclectic Foundations
Language arts...how many books and programs do you need? We have found our new FAVORITE curriculum, and it's all in one place! Eclectic Foundations Language Arts Level C from Eclectic Foundations is covering reading, handwriting, grammar, spelling, vocabulary and even poetry study. This level is intended 2nd-3rd graders who already know cursive and can read.
This is a one year curriculum designed with 36 weeks of 4 lessons each. It's written from a Biblical worldview and uses the historic (and effective) McGuffey's Reader. Best of all...my children LOVE it!
My tester is in 3rd grade. She has always struggled with language arts. This program doesn't "look" impressive at first glance, it's all black and white, the font is big and "seems" simplistic. However, once we started - I realized it's ANYTHING BUT SIMPLISTIC!
Each daily lesson is short and directed. The Teacher Guide is a must have, and tells you everything you need to know. Your student works in the Student Workbook. You do need a copy of the McGuffey's Second Reader (which is available free online) The program includes a Phonics Practice laminated sheet and cardstock Word Cards.
Are you familiar with McGuffey's? Check this out from the Eclectic Foundations website:
The McGuffey Readers were part of the Eclectic Education Series and were widely used from 1836 until the 1960's. The Eclectic Education Series was the most popular collection of textbooks before educators secularized the public school system.
During this shift in education, the Biblical teachings of these textbooks were no longer allowed in the public school system. Authors of the Eclectic Education Series knew that it was impossible to teach morality apart from Christ.
Educators of that time also had their pupils ready for college after completing the 8th grade. William Holmes McGuffey began teaching public school at age 14. The McGuffey's Revised 6th Reader, however, is considered to be a college senior reading level by today's standards.
Teachers of that time had the freedom to teach without government bureaucracy. Shouldn't we raise our standards again?
We haven't written an entirely new curriculum. We've simply enhanced these old textbooks, modernized some of the language, and made them "teacher friendly".
Each Lesson introduces a list of words for us to read together. This is where we spend time focusing on phonics and mastering the reading. Then, using our laminated Phonic practice sheet - we get to have a spelling test with those same words. My tester loved the opportunity to do her spelling words with a dry erase marker. Who knew? The secret to no-tears spelling test is a dry erase marker??
The Word Cards are the true treasure of this program!
Lessons include pre-printed word cards on heavy card stock. This is where the hands-on grammar teaching takes place. The words for the lesson correspond with words from the reading from the McGuffey's Reader. Lessons alternate between working with the words, and reading sections in the Reader.
I lay out all the cards and have my tester look and find all the nouns (then color them red) as we review the definition of a noun. Then we look for verbs, adjectives, etc. I am AMAZED by how this activity had increased my tester's grammar knowledge!
Every now and then, the lessons use the Word Cards in different way- like alphabetizing all her nouns (and she begged to do the verbs too...score one for mom!). We keep them in plasic baggies by type of word. She also uses them to build sentences.
In addition, each lesson has a handwriting/memory section. My tester does know cursive (making her extra special) and loves to get to write in it. These are short selections of scripture or an inspirational quote. Poetry is introduced and included with copywork too. The skills build steadily throughout the program.
This is such an affordable and EFFECTIVE program that my 2nd grader begged me to get her one! Let me say... Level B is equally as great!
Eclectic Foundations Language Arts Level A - Eclectic Foundations Language Arts Level B -
Eclectic Foundations Language Arts Level C
Hashtags: #hsreviews #languagearts #mcguffeyreaders #eclecticeducation