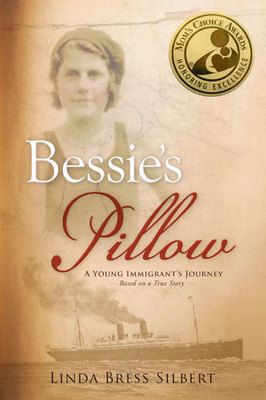 Bessie's Pillow from
Strong Learning, Inc.
We have been enjoying a glimpse into real-life history with Bessie's Pillow from Strong Learning, Inc.. This excellent book is based on the true story of immigrant, Boshka "Bessie" Markman. Set in 1906, Bessie comes to America from Vilna, Lithuania to escape persecution. The author, Linda Bress Silbert is her granddaughter.
My tester for this book is my 13 year old daughter. She was hooked from page one! The story follows young Bessie's journey to America. Her experiences during immigrant inspections immediately brought history to life for my daughter. I love to learn history by reading about REAL people's experiences. Bessie's introduction to Ellis Island is much more impacting than reading a dusty textbook account!
Through each obstacle Bessie faces, we get to see her grow and persevere. Great character lessons are woven throughout this story. Her life isn't glamorous, in fact, at times it's depressing.
The pillow is a gift sent to America with Bessie to deliver. Ultimately, the pillow leads her to her future husband. Their story is filled with joy and tragedy. We get to share her story. It is an unforgettable story of overcoming and survival. My tester shed tears during several parts. But, it gives you a very realistic account of what life was like during this time and Bessie becomes a friend.

The afterword in the book is filled with photographs of the characters from the book. Seeing these pictures really made the story real. My tester was amazed that this was a true story. She has been inspired to learn more about her OWN story by talking with her grandparents about their early lives and creating a journal.
In addition to the book, readers can explore more online at Bessiespillow.com. The site includes many multimedia extras that you can use to really understand the time period. Topics include:
European Immigration
Famous People
Foods & Recipes
Health
Housework
Movies, Music & Dancing
News
US Presidents
Radio
The site is fascinating to explore! It's a peek into live in the early 1900s.
Bessie's Pillow Teacher Guide
is a downloadable, 16 page PDF that you can access to create a full literature study to go with the book. It includes discussion questions, timelines, vocabulary, research topics and additional reading suggestions.
My tester really enjoyed this book. We plan to enjoy it as a family read aloud as well. (Did I mention,our oldest son is traveling to Lithuania in May... perfect timing!)
Find
Strong Learning, Inc.
on Social Media
:

Facebook: https://www.facebook.com/BessiesPillow
Twitter: https://twitter.com/BessiesPillow @BessiesPillow

Hashtags: #hsreviews #historicalfiction #BessiesPillow
See what other members of the Crew thought here