Orphs of the Woodlands
from
Star Toaster
is an online book, designed for kids in Grade 4 and above, which offers you much more than reading and phonics. It is "
an educational journey that combines a reading adventure, an academic treasure, and a rewarding game
".
In this extremely well done program - you student gets to enter into an adventure to save the "Orphs of the Woodlands" - aka - orphaned creatures. While on this reading adventure, they also complete activities in a variety of subjects like: math, science, vocabulary, Latin, Arts, famous quotes, music, and even cooking & recipe ideas. This program is completely filled with learning activities, and character lessons - but, they make it all look like pure fun!
The Bentz Test Laboratory was a bit skeptical when I told them I had another "online reading program" for them to test. But, one peek at
Orphs of the Woodlands
- and they were hooked. They keep begging for more time! The graphics are amazing, the storyline keeps you on the edge of your seat, and the activities woven seamlessly throughout don't even feel like "learning"!
In this story-
The Treasure of Hightower ,
each of my testers completed their own "application" to become a spy and defender to the Orphs (helpless woodland orphan creatures - that will not survive without YOU!). Each of my testers designed and named their main character - including character traits they posses.. My testers LOVED that while each of them were doing this program (up to three children) and they each had individual characters!
Over the course of 15 chapters, which your child reads independently (ideal for grades 4-7), they are taken on an adventure. Once the story has drawn them in, they get to complete activities which earn them "gold stars". These are the currency of the Woodlands, and can be used to purchase the supplies the Orphs need to survive and thrive.
The reader is instantly drawn into the story as a vital, providing character. My testers loved that the program remembers where you left off, and returns you to the exact spot next time you get some computer privileges from mom. (Take if from me, Mom - you will want to grant these with this program!)
My testers appreciated that this program was teaching higher level concepts...not just the beginner level. The vocabulary alone makes it worth getting! Being the rescuer of the Orphs was a HUGE incentive to them as well. Great character lessons are woven throughout the adventure.
Easy-to-create parent accounts allow you to keep track of your students progress. Progress emails are also used to update you on what your child is working on. This is a
beautifully done program
- the graphics, the design, and the story are some of the best I've encountered!
With summer break right around the corner, this is the perfect way to keep them learning - but, shhh - don't tell them... They will think this is for fun ;-)
Go ahead and check out their FREE Trial of the first 100 pages of the book, plus more than 50 lessons.
One of our favorites by far - my testers keep begging for more! Good news - the next edition is already in development, my testers are not-so-patiently waiting!!
Don't miss out on this one, it's a real keeper!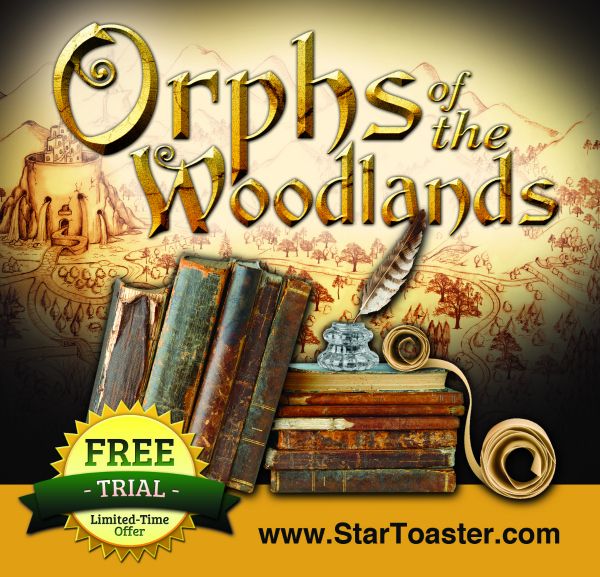 See what other members of the Crew thought here