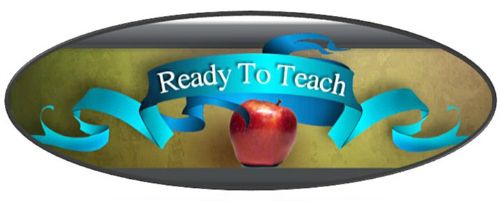 Greek Morphemes Lessons (It's NOT Greek to Me!) from
Ready to Teach
Teacher's Manual
- Includes a CD-rom with PowerPoint presentations for each lesson, quizzes, and templates for transparencies (future buyers will receive these digital files on a flash drive).
Student book
- includes lessons and colored flash card pages.

The Bentz Test Laboratory choose to do this program as a "class". My testers were 8th, 9th and 11th grade boys... a real lively class :-) They were in desperate need of something to bring some excitement back into vocabulary study, and this was just the ticket!

Each lesson is divided in to several bite-sized sections designed to introduce, practice and commit these morphemes to your memory bank.

To begin a Lesson : watch the Powerpoint presentation of the morphemes & record the meanings. There are three types being introduced: Roots - Prefixes - Suffixes
Assignment A - "Work" 8 new words (Assignment A). This is breaking down a word into it's morphemes systematically. Once you identify each morpheme's meaning, you come up with "MD" - my definition. The final step in working the word - look up the "DD" - dictionary definition, and see if you are as smart as the dictionary!
Assignment B - Repeat the "Working the Words" (Assignment B) process for the remaining 8 words in the lesson.
Assignment C - Create context clue sentences for any 8 of the words you have worked, and label the sentence. Also, create 2 NEW words with your new knowledge.
Assignment D - Break down more words with your morphemes, and write possible definitions. Then, match the definitions to them. Can you create funny definitions?

Create your own set of Study cards - colored templates are included in the Student Book. However, I went to the office supply store and picked up some handy notecards, already the punched and with a ring. (they are sturdier than the paper versions as well - a plus with my testers!)

Last, take a test and see what you learned!!

My Testers are willing to give most anything a try. What surprised all of us, was how much they enjoyed this easy-to-use program... It didn't need shiny, colorful, highly animated bells and whistles - it was still fun and very effective. They worked on one assignment per day, so it was a manageable amount. Depending on your student, you can adjust the pace to their needs. By learning to look at words and "see" their parts - they are able to break down new vocabulary and build words - sorta like legos, only with morphemes!

The repetition really cemented these useful language tools into their minds. Then, by getting to do something "hands-on" with this new found knowledge - through making study cards and creating silly new words... they kept what they learned! It's even spilling out into other subjects! Yeah!!
Vocabulary skills are extremely important for the all important college exams, but often overlooked in the secondary grades. I think
Greek Morphemes Lessons (It's NOT Greek to Me!)
has been the most useful program we have ever tested. It helped them learn the process to breaking down new words, and was much more fun than boring lists of words to memorize.
Definitely go and check this one out!