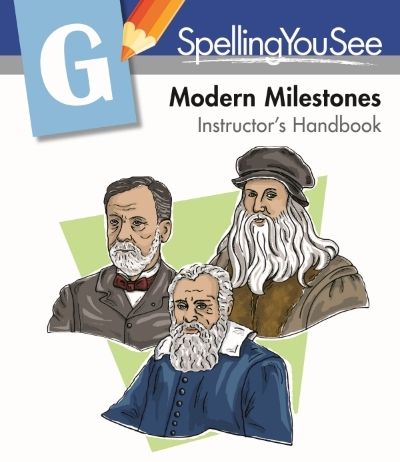 Spel...Sepll...Speling...SPELLING! How many attempts does a homeschool teacher have to take at getting this correct? I'm at the end of my rope...
If you can relate, Bentz Test Laboratory has a lifeline for you -
Spelling You See
from Demme Learning (makers of Math U See) - will blow a brand new breath-of-fresh air on spelling instruction!
Many popular programs approach spelling with long lists of rules, or longer lists of words to memorize followed by a dreaded weekly spelling test. Not
Spelling You See
- This program is a one-of-a-kind, innovative and effective way to teach spelling IN CONTEXT. Plus - it's fun for your student, really.
By placing your child in a level that matches their language development (no grade levels here) your child will start learning spelling in a natural way, that appeals to many learning styles. The Bentz Test Laboratory tester was placed in the
Modern Milestones
(Level G). This is one of 2 newly designed levels. Levels are available for all stages in language development - you can check out a more detailed description of their
Five Developmental Stages of Spelling
as well as download some
Readiness Guides
to find the proper place for your student.
Modern Milestones
is designed for students in the
Word Extension stage of spelling
. My tester was working with base words, suffixes & prefixes, nouns & plurals, Past tense, doubling final consonants , and the one-on-one rule during this review period. It goes on to work with word endings like -ous, -ation, -ion, science words and more with base words.
The
Modern Milestones
set includes: Instructor Guide, two Student Workbooks plus erasable colored pencils for marking. 36 Lessons feature passages used for copywork, dictation, and exercises that focus on interesting people like artists (Jan van Eyck, Botticelli) inventors (Gutenberg, Da Vinci), composers (Amati, Bach) , scientists (Bacon, Kepler), authors (Shakespeare, Crevantes) and many other fascinating characters who have influenced the world in modern time periods. It's a great companion to history studies too!
Designed to be completed in 5 short daily lessons, it is a full year of instruction.
My student, who is in 6th grade, was able to work completely independently, except for the weekly dictation from me. I must admit that teacher-intensive spelling programs are the death of spelling around here...who has time for that? Not me!
By using repetition and exposure to the written passage - this program makes spelling make sense. Spelling is developed in context, and much more naturally than memorizing rules and lists. The student carefully reads and marks the passage -called "chunking", copies the passage (great for your handwriting practice as well) and uses it in other activities (like fill-in-the-blank). Finally, they complete a dictation exercise to show what has been learned.
No weekly tests! My tester loved that instead of
"# of errors
", she was marked "
# of words spelled correctly
" - I love that this new level included a word count for me in the Instructor Guide as well.
This particular tester is truly a terrible speller. After many attempts with rules based programs, I had just about given up...determined she may just be "one of those people who can't spell".
Spelling You See
has really changed my mind! I am seeing HUGE leaps of improvement in her spelling AND in her writing skills. Spelling is a dreaded subject anymore. One of the easiest to use and most effective programs ever, it get two thumbs up!!
If you have had it with spelling, Please give
Spelling You See
a try...
Find
Spelling You See
on
Social Media
Facebook:
https://www.facebook.com/SpellingYouSee
G+:
https://plus.google.com/+SpellingYouSeePage/posts
Twitter:
http://twitter.com/SpellingYouSee
Pinterest:
http://www.pinterest.com/SpellingYouSee/
Some other Crew Members reviewed -
Ancient Achievements
(level F).
See what other members of the Crew thought here