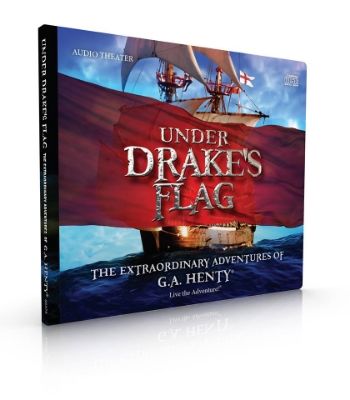 Under Drake's Flag from Heirloom Audio Productions - $29.95

is a professionally produced, a

udio theater -

2 CD set that includes a Study Guide. Designed for ages 6 and up and based on the novel by G.A. Henty (one of our all time favorites) this tale will take you on a 2 hour audio adventure!
The Bentz Test Laboratory logs many hours in the van... why not capture this time together? We are huge fans of listening to audio programs. In fact, for the last several years - this has been close as we could get to sharing a good read aloud, listening to stories together while my audience was held captive... I mean buckled up :-)
Being long time fans of anything from master story teller, G.A. Henty, I just knew this audio was going to be a "must have". I actually had ordered this audio the moment I first noticed it, and was excited to see it come as part of a TOS Crew review. Henty's stories are filled with heroic characters, set in history, living lives filled with adventure. Your boys, especially, will love his timeless tales. His Christian worldview is woven throughout each of his 122 books. I just love his quote - "To be a true hero, you must be a true Christian".
Under Drake's Flag immediately hooked my testers into the story of young Ned and his epic adventures with Sir Francis Drake. Sharks, shipwrecks, battles, even the Spanish Inquisition. Ned's life intertwined with history makes for an unforgettable and inspirational story of faith and perseverance. Historical fiction makes history come alive in a whole new way.
Check out this video to see & hear for yourself!
We were all blown away by the quality of this audio. It's professionally done with sound effects and high quality recording. We listened to it in a single drive (it was a long drive...) but, it made 2 hours fly by! We could.not.stop. We even opted for a drive thru dinner, so we didn't have to interrupt the story - it's that well done.
In addition to the short Study Guide included in the CD Set, you get access to a longer, 28 page PDF study guide online as well. The study guide can be used to help your children further understand the storyline and principles being taught. You can also use it for a series of writing assignments for older students. Vocabulary, comprehension questions, and even several short Bible studies are components included in the study guide. We chose to enjoy the story, and didn't really utilize the treasures in the study guide. However, we will be enjoying this audio again, this time using some of the ideas and suggestions in this guide to enhance our history study!
I have to leave you with another inspiring quote, this from the prayer of Sir Francis Drake - 1577
"Disturb us, Lord, to dare more boldly,
To venture on wider seas
Where storms will show your mastery:
Where losing sight of land,
We shall find the stars.
We ask you to push back
The horizons of our hopes:
And to push into the future
In strength, courage, hope and love."
So very appropriate a message for my testers and I as we enjoyed this story together on our way to a new adventure of our own.
Check out Heirloom Audio Productions next project - In Freedom's Cause - another audio we'll have to have - stay tuned it's coming soon!
Check out the Official Under Drake's Flag Store for more goodies for your fans...
Under Drake's Flag from Heirloom Audio Productions on Facebook
See what other members of the Crew thought here