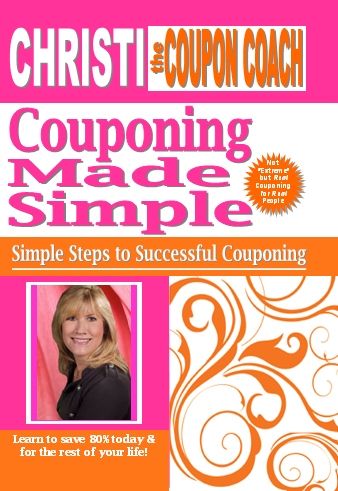 This is for EVERYONE - not just the homeschool crowd..
Who wants to save some money, who NEEDS to save some money?
If you answered yes - you will want to get a copy of this book!
Christi set out to be a good steward of God's resources and make her family's budget stretch. I truly appreciate her reminders of WHO is ultimately in charge of our money - God. We can use everything to bring Him glory - even our couponing! A chapter on the ethics of couponing is one of my favorites - "Do you really want to answer to Jesus for your integrity for some savings on peanut candy?" Love it!
The 130 page book contains all the must-know information to get started with REAL couponing and saving your family money. She will inspire, educate and walk you through step-by-step. First, learn the language of couponing - BOGO, Stacking, Blinkies, Peelies, O.O.P and more (if you want to know...get this book!)
I've always been a couponer, with 10 mouths to feed - I learned this skill early on. But, even if you are a long-timer - I promise, this book will teach you some new tricks. The Tips & Tools chapter will save you the cost of the book right off!
One huge tip I took away, was to buy more newspapers. Keeping a sharp eye out for the inserts, and having multiple coupons per item can really save you big. We've always had one Sunday paper, delivered, read with coffee... but, now I will make a point to go pick up a couple of additional copies - purely for the coupons. I know I'll save enough with them to pay for my "coffee subscription" several times over. And to think, we were about to cancel our newspaper subscription... :-)
Check out Christi - herself!
Click to read more reviews from the Schoolhouse Review Crew