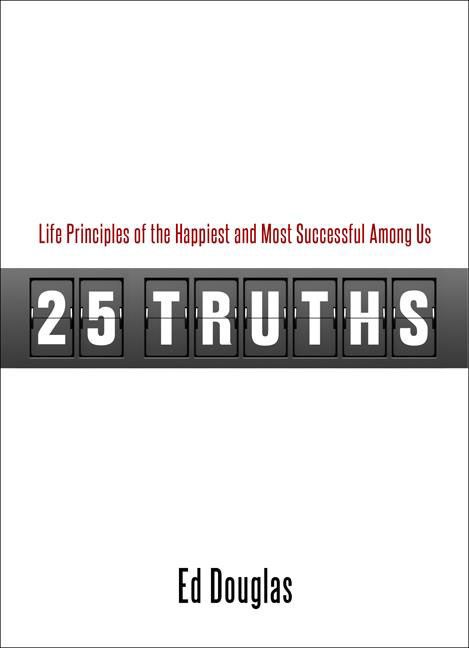 From their website:

"
'Today, in a time of declining morals and values,
25 Truths: Life Principles of the Happiest and Most Successful Among Us
is a motivational and inspirational guide built around Christian principles about what is really important in life. The book covers character and values, caring and compassionately dealing with others, making a difference in the world, and much more. In today's fast-paced word, there doesn't seem to be time to discuss these important concepts with children and others, so each truth is concise and easy to read, followed by discussion questions
."
For grades 6-12, or for adults.
Cost: $12.50 plus shipping & handling
With a house full of children to educate, from Pre-school to High-school, how do you make sure you're telling them what you want most to tell them? How do you remember who has been told, and who hasn't? What if you don't have enough time?? Maybe I should make a list....
25 Truths: Life Principles of the Happiest and Most Successful Among Us
to the rescue. This book began as a three-page list that Ed Douglas had compiled and titled "Life's Truths" or "25 Tips for an Enjoyable Life." He shared the list with friends, acquaintances, and students that he coached as the head high school tennis coach. I love making lists, so this caught my attention immediately!
Each short chapter is actually a "truth" of life that Ed wanted to pass on. This is not a Bible study - rather more of a motivational/encouragement book.
Topics include truths like:
Protect your Reputation
Be Quick to Apologize
Never Surrender
Give and it Will Come Back to You
The Truth is introduced with a quote or scripture. Ed gives some personal stories and examples to illustrate the point. Each chapter ends with a quick summary and "workshop" where you find discussion questions.
I am very impressed. We have been using this together at lunch. I read it aloud, then everyone gets the chance to listen and discuss. The chapters are short, just a few pages. The topics have been very timely. I plan to keep this pattern going, and re-read the book with them.
I think this would work nicely in a small group setting as well. I plan to introduce it to my son's group (they call themselves the "MCA" ...masculine club of awesomeness) it would make a great discussion starter.
No more worry if I've told them the basics... this is a list you can use too!