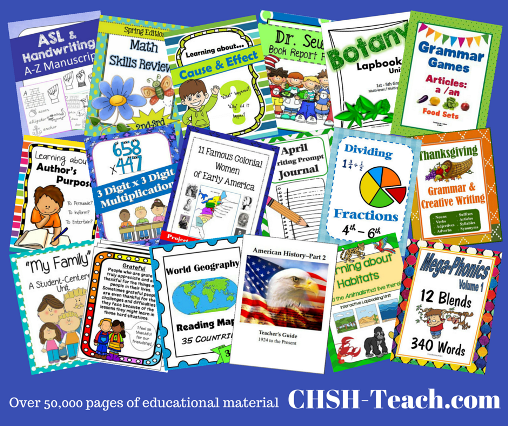 CHSH Download Club (Christian HomeSchool Hub)
from CHSH-Teach.com
The beginning of the school year is always exciting...new possibilities are everywhere! I have been enjoying exploring them with a new favorite resource the CHSH Download Club (Christian HomeSchool Hub) from CHSH-Teach.com .
I truly have no idea how anyone homeschooled before the internet, do you? However, searching for that perfect complement, or freebie can be extremely time consuming. Time is a commodity I don't have much of lately...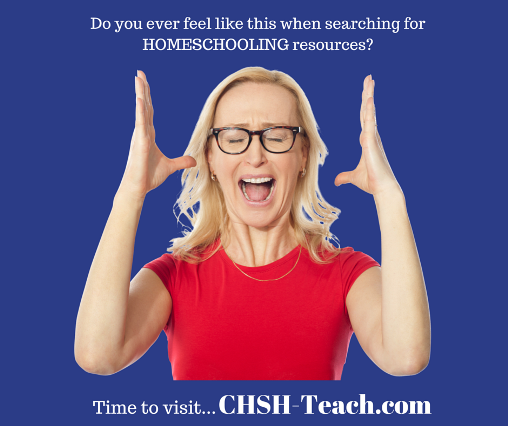 CHSH Download Club is a subscription site that offers over 50,000 downloadable educational resources - take a peek at theire Download Catalog for grades Prek-12. You can homeschool your entire crowd with this site! Best of all, it's all organized and available right in one place - no more searching! (except through their massive collection of amazing resources) The download library contains full curriculum and supplemental resources as well.
Not only can you find that perfect "something" but you can become a contributor by adding your own, self-made curriculum or printable that you have created.
CHSH founder Lynda Ackert is a regular contributor and actually sells many downloads on popular Teacher resource pages. As a Download Club subscriber, you'll have access to all of them! You can check out the
freebies
page to see a glimpse of what you get as a subscriber.
I can spend hours on sites like this. This one is very easy to navigate. You can search by topics like:
Bible
Language Arts
Science
Foreign Language
Arts, Crafts, Music
Electives
Math
Social Studies
Health
Or - they are also organized by Grade level. Here's a few treasures I discovered:
I jumped right into Bible resources (my favorite) I was so excited to find the "Bold Believers" downloads. These are a great way to teach your child about geography - and the persecuted believers around the world at the same time.
We are studying Ancient history this year, the Download Club had everything I needed to create a great unit study. Like these awesome Egyptian craft ideas.
I have elementary through high schoolers. It can be quite a challenge to find great resources for the high school level. But, the Download Club is packed with them, did I mention...no searching - all in one place?
The Literature section alone is worth the affordable $25 annual subscription! (they promise to never raise your subscription fee) Lifetime subscriptions are available as well.
CHSH also offers many other treats like a blog and forum that are excellent ways to connect with other homeschooling families to get advice and share tips.
New downloads are being added all the time. This is one of those sites that is a "must have" - Be sure to check it out for yourself!
Find CHSH-Teach.com on Social Media:
Facebook Group: https://www.facebook.com/groups/TheChristianHomeSchoolHub/
Facebook Page: https://www.facebook.com/ChristianHomeSchoolHubPage/
Twitter: https://twitter.com/TeachWithCHSH
Pinterest: https://www.pinterest.com/lyndaackert/chsh-teachcom-creations-by-lackert/
Google+ Group: https://plus.google.com/b/117967118184286217472/communities/108322787218266183941
Google Business Page: https://plus.google.com/u/0/b/117967118184286217472/117967118184286217472/posts
Linked-In: https://www.linkedin.com/in/lyndaackert
Tumblr: http://christianhomeschoolhub.tumblr.com/

Hashtags: #hsreviews #CHSH #homeschool #homeschoolresources
See what other members of the Crew thought here