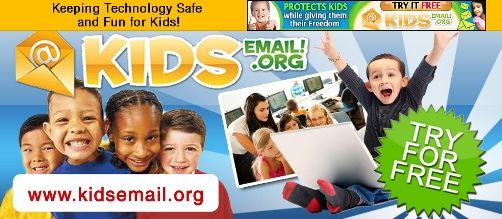 Annual Subscription from KidsEmail.org
Email is a fact of life, but how do you introduce this to your younger students safely? Bentz Test Laboratory has found a wonderful way to explore the online world with a Annual Subscription from KidsEmail.org.
This online subscription offers you and your children a safe email environment. Our subscription allowed up to 6 children accounts. Accounts are all setup by the parent. Each one of the accounts includes safety features such as:
Mail Monitoring
Time Restrictions
Contact Manager
Offensive Word Filter
GPS
No Ads
SPAM Filters


Several of my older testers already have and use email, so we used this with 3 of our younger testers - grades 6th,5th and 3rd. They LOVED it!
Setting up a parent account was easy, and I had access to many options to customize the security for my testers. For instance, I opted to get a blind cc of every email that is sent or received, and I get to approve the message (or not). I really like having this control. I can also control the contact list for who can send them email, and who they can send to. It prevents any unwanted contacts and/or spam or advertising going directly to my child. Kidsmail.com blocks all advertising and offensive language from your child's account.
My 6th grade daughter was excited to have the option for a more "sophisticated" look with her own Kmail.org account. I can set up time limits, and even use GPS monitoring (although...none of my children get a phone until they are proud owners of a driver's license...). My daughter was so excited, she flooded every family member's email box with sweet little emails directly from her!

My younger testers enjoyed the process of customizing their login pages almost as much as having an actual email. They have a large variety of backgrounds that your child can choose from. They can also organize their mail in folders. (a helpful skill my older children haven't mastered yet...)
They haven't gone quite as crazy with emailing everyone - but, they have enjoyed having their very own way to send their college-age brother messages. He's been happy to see all this love from home too!
For really young students...they offer a "read it" feature that will actually read the email to your child. My testers were able to read their own, so we didn't use this one.
Kidsemail offers a "drawing board" for your artistic ones. They can draw their own pictures, and send them. My 3rd grader loved this part - her messages are mostly pictures.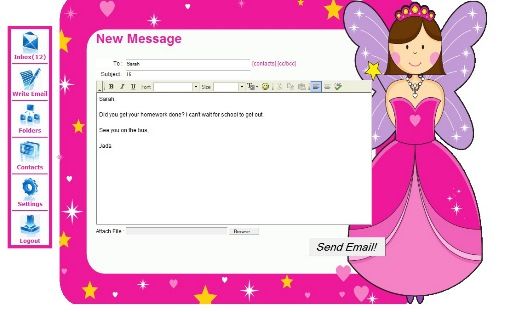 Parents can also control the attachments allowed - pictures, files, etc. I could also see a handy activity log to keep track of how much they are using it. Once the novelty wore off, their emailing tapered off to a manageable amount.
It's very handy to be able to send them notes as well. It's our own form of homeschool "lunch box notes" where I write a quick note of encouragement.
This is a very easy-to-use,affordable way to begin introducing the online world while guarding their hearts.
Highly recommend!
Find
KidsEmail.org
on
Social Media:
Facebook:
https://www.facebook.com/KidsEmail.org
Twitter:
https://twitter.com/KidsEmail
Pinterest:
https://www.pinterest.com/kidsemail1/
Google+:
https://plus.google.com/+KidsemailOrg
Instagram:
https://www.instagram.com/kidsemail/
Hashtags:
#hsreviews #kidsemail #emailforkids