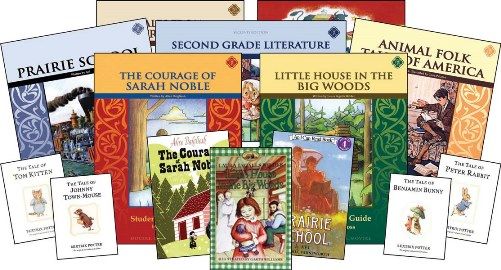 Second Grade Literature Guide Set from Memoria Press
Nothing makes me happier than reading good books! In fact, one of my main delights in homeschooling is studying great books with my children. I love this quote from Memoria Press:
"Students who have been challenged by good literature will never be satisfied with the poor-quality books that are so readily available today"
Prairie School
Animal Folk Tales of America
The Courage of Sarah Noble
Little House in the Big Woods
Tales from Beatrix Potter (Peter Rabbit, Benjamin Bunny, Tom Kitten, Johnny Town-Mouse)
Student Guides and Teacher Key
My tester is in 2nd grade. Memoria Press encourages you to challenge your children with books a bit above their reading level, a great way to help them engage in the process of becoming superior readers. This Set is a wonderful collection of well-loved classics, with a range of reading that fit my tester perfectly.
I had most of required books, so I let her pick which one she wanted to start with. She chose
Prairie School
by Avi. You can take a peek at the
Prairie School Sample
. The Student Study Guide introduces vocabulary, comprehension questions and enrichment activities such as copywork, dictation, research, mapping, drawing, poetry, literary terms and more.
The student is instructed to read the chapter (independently - or, aloud) and mark each vocabulary word as they come to it. Then, complete the 4-6 comprehension questions.
Since my tester is a struggling reader, we focused on the "pronounce & spell" words together, then defined the vocabulary words before she began her reading. This was a great way to make sure she was understanding the words.
Following the comprehension questions, each chapter had discussion points. This was a fun way to discuss the historical background, look at the map, and get her thinking about the story on a deeper level.
We both LOVED this approach to literature study!
Another feature I really appreciated is that Memoria has done all the work for me. The Student Guides are very well done and comprehensive, the Answer Key gives me everything I need (even if I haven't read the book...) and the Set pulls it altogether in a nicely planned year of Literature. This is GREAT for a busy mom like me with multiple levels of literature to teach!
My tester has just started
Little House in the Big Woods
, the longest book she has ever tackled independently and I absolutely can NOT wait to share this treasure with her!