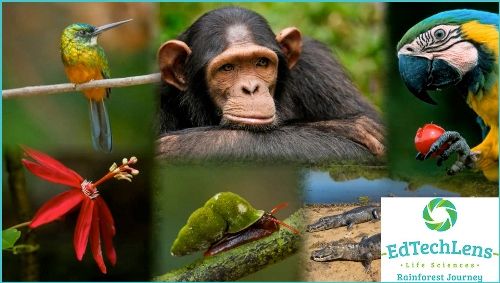 Rainforest Journey from
EdTechLens
The testers at Bentz Test Laboratory were fascinated with Rainforest Journey from EdTechLens! We were blessed with a one-year online subscription to 3 levels of this amazing learning adventure into the rainforest. My testers are in Grades 1, 2 and 4. The program is aligned with science standards for grades K-5. They were all able to log-in and explore a level customized to them!
Take a peek at video introduction here.
There are 5 units to the Rainforest Journey program - including:
The Big Picture
Adapt or Die
Animals
Plants & Fungi
Ecosystem
There are 34 lessons in the Rainforest Journey program. Different levels are tailored to that specific grade level's ability. For instance, my 1st grader's level was at a simplified reading level. I LOVE that multiple grades can all be working in this program with different (but the same topic) content. It's a great feature for those of us with multiple children.
One thing my testers really liked was the "photorealistic media" - meaning that this program is not animated, it's real stunning photography, video, still clips and sound effects that capture their attention.
It's a very easy to navigate, user-friendly program. Even for younger elementary students. A teacher log-in allows me to manage my student accounts, and view their progress. I could determine if they needed to work sequentially, or allow them to skip around. My students were also able to access their level from my Teacher account, and since I didn't care much about tracking their progress - it was easier for me to log-in and let them access their individual level from my parent account.
Each lesson has text that can be read, and clickable portions to see more. They can also choose to have the audio read to them. My tester liked reading it herself. You can print off PDFs of each lesson transcript (we did not) and the Lesson Reviews are downloadable and printable as well. I printed off their lesson reviews for each unit at one time, and put them in a binder that they kept near the computer as they read through each lesson. The Lesson reviews are quick reminders of what they learned in the lesson
Here are examples from each lesson:
Unit assessments are available if you want to see what your student is remembering. For my 1st grade student - they were pictures to select from, facts in multiple choice and open ended answers. My 2nd and 4th grader had similar - but more advanced for their level. When they do them on-line, the program corrects them automatically. I didn't need to focus on assessments because my student was constantly telling me all kinds of interesting facts she was picking up!
Hands-on activities are included and more suggestions for additional exploration. The hands-on activities seem better suited for a classroom group setting - like Season's Charades and a "Are You My Mother" guessing games in the 1st grade level. My 2nd grade tester loved creating her own rainforest levels poster!
All three of my testers enjoyed this program. I thought it was well done, and a great way to dive into studying the rainforest together.
At $50 for one student (or just $75 for up to 5 students - in the same level) one year subscription -
use the 50% off coupon here
, it's a great science program enrichment experience.
ind EdTechLens on Social Media:
Twitter: https://twitter.com/edtechlens
Facebook: https://www.facebook.com/edtechlens
Pinterest: https://www.pinterest.com/edtechlens/
Google +: https://plus.google.com/+Edtechlens
LinkedIn: https://www.linkedin.com/company/edtechlens

Hashtags: #HSReview #EdTechlens #OnlineScienceResource #InteractiveScience #homeschool
See what other members of the Crew thought here