Egglo Entertainment
The Bentz Test Laboratory loves traditions, and egg hunts were family traditions since the beginning. However, we don't like the focus being on the bunny.

Egglo Entertainment has brought us a fun way to keep the true meaning of Easter the focus in our Easter Egg hunt fun!
Glow in the Dark Egglo Eggs - 12 eggs of 4 different colors (pink, blue, yellow and green) and two different designs (a cross or plain). The Glow in the Dark Egglo Eggs were a HUGE hit! You "charge" them under light (we just used natural sunlight) and they will glow for 1-2 hours. My testers are so fascinated by anything that glows. The 12 eggs are made of sturdy plastic, some are decorated with a cross, others are plain. I really liked the sturdy construction (not like the discount store plastic eggs)
In just a short time, they were off and glowing. So many fun ways to use these eggs - a scavenger hunt at night, a treat in a basket, or even better - a memorable object lesson. The glow reminds children of the TRUE light of the World - Jesus!
I found another use for these handy little eggs... a bit off the Easter theme. With so many of my testers loosing teeth lately, I thought - hey, these would make great "tooth fairy" containers! My testers have been stashing their lost teeth, and hiding the egg. The glow-in-the-dark feature has helped me locate these little treasures!
The Egg-cellent Easter Adventure book -
This
beautifully illustrated 40 page storybook tells the story of 3 children and a dog that are sent on a scavenger hunt type of adventure around the world. At each stop along the journey, they find another glowing egg each containing two scrolls, one with a Bible verse and the other with a riddle for them to figure out.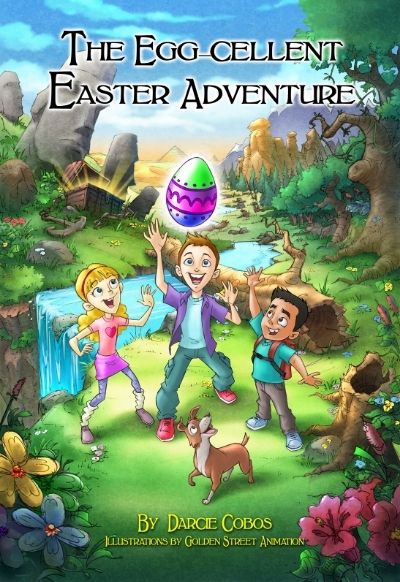 Egglo Treasures Scripture Scrolls - 12 super cute little plastic scrolls with Scripture printed on them. These fit easily into the eggs, and make a great alternative to candy!
Egglo Bible Verse Stickers -
set of 12 stickers, made to remind your child of the scrolls in the adventure story book. The stickers can be tucked into the eggs, or used to decorate them.

The Egglo Glow in the Dark Egg Hunt Event Curriculum - 60 page downloadable PDF guide with step-by-step guide featuring how-to instructions, visual aides, activity ideas, snack ideas, decorations, coloring activity pages, Bible verse scroll and cross Easter egg cutouts to put in the eggs and more. The curriculum can help you turn this into an Egg-cellent Adventure (sorry, I couldn't help myself) for your group or Coop.
The program is best suited for ages 4-12 years, but is easily adaptable for younger or older ages. All the testers at Bentz Test Laboratory found something to love. A new family tradition has been born!
Find Egglo Entertainment on Social Media:
Pinterest:
http://www.pinterest.com/eggloeggs/egglo-easter-egg-hunts-about-jesus/
Facebook:
https://www.facebook.com/EggloEggs
Twitter:
https://twitter.com/EggloEggs
Instagram:
http://instagram.com/eggloeggs
YouTube:
https://www.youtube.com/user/EggloEggs
Google +:
https://plus.google.com/+Eggloentertainment/videos
Tumblr:
http://egglo.tumblr.com
See what other members of the Crew thought here