Visual Learning Systems
Digital Science Online: Elementary Edition (Grades K-5)
(This is primary as well as elementary science.) and
Digital Science Online: Secondary Edition (Grades 6-12)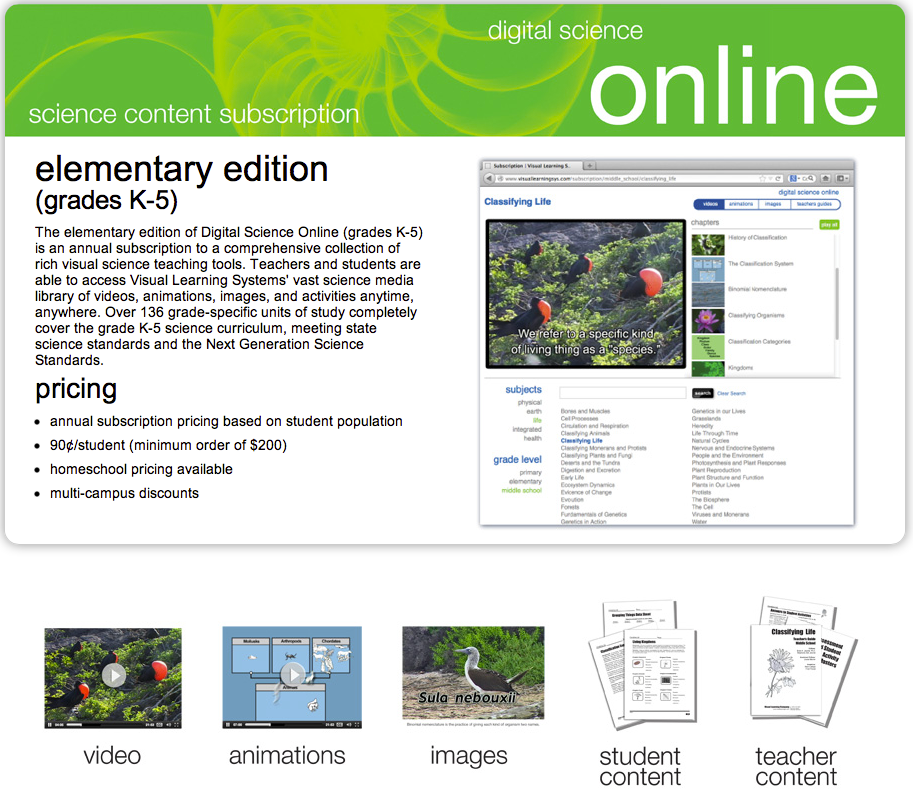 At Bentz Test Laboratory, we enjoy learning that is not confined to just textbooks (we do have some textbooks...just so you don't panic). When I saw
Visual Learning Systems
, I knew it would be a hit!
You can pick and choose which level you are interested in, and also what area of science you would like to study and explore - life, physical, earth, biology and more. Each section includes professionally done - high interest video clips, animations, and images. In addition - PDF downloads of assessments, student activities, and teacher's guides are included with each lesson.


Since I have testers in all age groups, we all took a peek at various topics (we were given a year long subscription, and plan to use every minute of it!) We were never disappointed! The videos are extremely well done. However, my elementary testers, grades K-5, claimed this product for the review, and spent the most time with it. (please pardon the messy desk...learning is taking place, no time to clean!)


This program is very user friendly, once you log on you can pick and chose from numberous different topics available. My testers decided to start with Life Science - specifically focusing on plants. The videos ranged in length from 15-20 minutes. Perfect time for their attention spans. The sections on plants naturally led into the different biomes on eath. They needed to be pried away from the computer...
Once they have completed the video portion - additional resources are available. In the student section worksheets include: Pre and Post Tests, Video Review, Vocabulary, Writing Activity & Hands on Activities are available to download and print.


My testers were excited to take the learning off the screen and over to the "lab"... aka - kitchen table. They choose to do a hands on flower dissection.
The instructions were clearly written, and easy to follow.


This program is more than a supplement. You can use it as your main science curriculum. My testers loved the visual aspects, and the extra worksheets were a great way to get some hands on interaction going.

My younger testers have really enjoyed this program - in fact, they ask to do science everyday!


My older testers were more interested in picking and choosing topics that they wanted more information on. One cautionary note, this program does not teach from a creationist worldview - so you will want to be aware. We did not encounter any "objectionable" topics in our study. Nutrition and Health are included in the upper levels - we plan to work through both segments this spring.

I really like this program. If you're a busy home school mom that wants to add more to your science studies - but, you don't have the time to pull it all together, you will want to check this one out!


Find
Visual Learning Systems
on
Social Media:
Facebook -
http://facebook.com/visuallearningsystems
Twitter -
https://twitter.com/visualearning