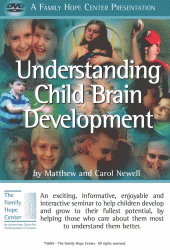 To order the DVD, please call 610-397-1737 or you can order
Understanding Child Brain Development -
from Institute for Excellence in Writing
Cost: $19.00
From their website:
"
The Family Hope Center (FHC), firmly believes that you should be in the 'driver's seat', knowing what to do and how to do it. Understanding Child Brain Development by Matthew & Carol Newell is a 2+ hour seminar designed to help you understand your child's development, the role you play in it, and how to help your child be the best they can be
.
The DVD will have the viewer considering the who, what, when, where, why and how of your child's total development
."
Do you have children needing "special ministry" (a good friend introduced me to that term and I feel it fits perfectly!) Autism, ADHD, even Dyslexia, brain injuries other "special ministries" can leave you with so many questions. How? Why? What can I do to help? This DVD will give you some of the answers.
This DVD is
very
thorough - explaining brain development at each stage, including the effects of foods and environment. Sunlight, Water, Nutrition, even Microwave usage are all discussed. Even if you are well versed in these topics, I promise you will learn something new! Read
An Introduction to Your Child's Brain here
. It's not just for "special ministry" situations either, all parents can benefit from this education.
"
You aren't the problem, but you are part of the solution
." The Newells are committed to bringing hope to families. Instead of treating symptoms, as many doctors are doing today, their aim is to to point toward solutions and equip parents with the knowledge they need to help their children succeed.
I found this DVD very interesting, and I was eagerly taking notes as I watched. I will most definitely be watching it again, as there is so much good information to be learned. While I found myself agreeing with a lot of what was said, they do state that microwave use
could
be harmful, and should be avoided. Starvation
could
ensue at Bentz Test laboratory if we discontinue microwave use around here... just sayin'. :-) I recommend viewing it, but using it as a starting point for your own research journey - rather than a definitive "how-to" to follow rigidly. You know your family, and the "special ministry" you need most.
This isn't the type of DVD to curl up with a bowl of popcorn with...but, rather - valuable training tool to provide knowledge and strategies. It's time to do some "Mom & Dad Continuing Education" with this seminar.