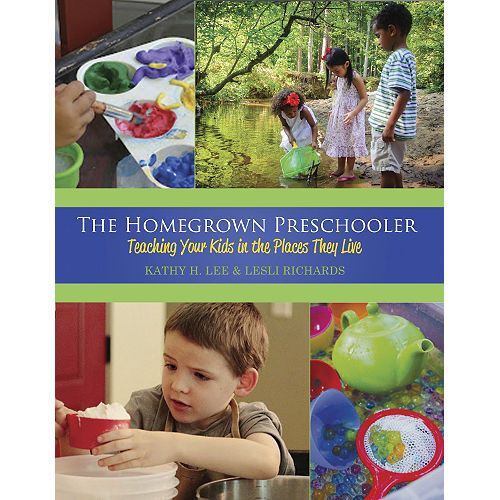 The Homegrown Preschooler: Teaching Your Kids in the Places They Live
by
Gryphon House
From their website:
"
Transform your home into a learning environment that rivals the best preschool classroom!
Find exciting learning opportunities in everyday occurrences, from using laundry to teach sorting to exploring growth cycles in the garden, with the easy-to-organize, simple-to-start ideas, advice, and activities in The Homegrown Preschooler.
As straightforward as a parenting how-to book and as easily applicable as a set curriculum, The Homegrown Preschooler will inspire parents to use their homes as classrooms and take advantage of the naturally rich learning opportunities existing in everyday life!
With organizational tips, recipes, and more than 200 easy-to-pull-together activities, homeschool educators will have everything they need to offer a well-rounded preschool education rivaling the best classroom experience. Convenient charts and checklists to document children's growth ensure that there are no gaps in educational, social, or physical development."
224 pages, paperback - Pre-K
Take a peek inside!
Cost:
$29.95
Bentz Test Academy is down to our last preschooler :-( How did this happen? With 8 children, it felt like the preschool years would go on forever. Like all good things - they were bound to end someday...but - NOT YET! I plan to enjoy every minute of this! This is our adorable preschool tester - Essie!
The Homegrown Preschooler: Teaching Your Kids in the Places They Live
by
Gryphon House
arrived in the mailbox - just as I am starting to plan our 4 year old's preschool year. What a GODSEND!
I know, I've done this a few times. Even if you are an "old dog" at preschool, you will want to learn some of these "new tricks!"
The Homegrown Preschooler
is a beautiful, full-color book filled with inspiration.
The Nine chapters feature time-tested wisdom and child development insight from the author's own experience. In addition, recipes, quotes, and personal notes will make you feel like you are looking at a family scrapbook. I loved reading through this book! It made me wish I had a couple more preschoolers to try all these ideas with.
The book is designed with two sections - First - the author's help you set your goals and really "paint a picture" of what the preschool years should look like. Learning right where your preschool is - with you! Their focus is on enjoying this special time together.
The Second half of the book is where you will find all the wonderful, developmentally appropriate activities for your preschooler. You will not have to spend hours on Pinterest looking for ideas...they are all right here - easy to find!
All throughout the book - recipes, housekeeping tips, and schedules will help you balance the rest of your life while teaching and learning with your preschooler.
The lists of resources at the end of the book are a valuable treasure. Directions for building your own light and sensory tables are included too! Don't miss the
FREE RESOURCES
page on their website - hundreds of ideas are waiting for you.
I wish I had a beautiful guide like the
Homegrown Preschooler
at the beginning of my homeschool journey. It's like having a trusted friend to grab you by the hand, and help direct you on the path of learning together.
Chapter 9 - Special Circumstances will help you understand the special path some of us get to travel. If you find yourself here, it's nice to have a friend to walk with.
Chapter 10 - Activities. Here is where you will find the great ideas! From nature activities, home life skills, fine motor activities and plenty more - this is a comprehensive list (more than 80 pages of ideas!) Keep this book handy so may great ideas that would work well with lots of other ages too.
One of my favorite lists: the book activities to go with many of our favorite children's books.
The Hungry Caterpillar
by Eric Carle has been a long-time family favorite - now, my driveway is filling up with "chalk caterpillar hopscotch" A great new activity twist to a re-discover a book I've been reading for many years!
I have truly enjoyed reading through this book to get inspired. You will too! Other members of the TOS Crew took a look at another family-favorite -
Global Art: Activities, Projects, and Inventions from Around the World
, check out what they had to say!