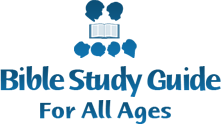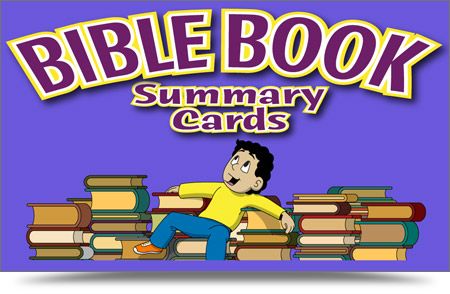 Bible Study Guide For All Ages
From their website:
"
The Bible Study Guide
is a Bible curriculum that takes all ages through the Bible at the same time, studying some Old Testament and some New Testament each year.
Students learn the "big picture" of the story of the Bible, in-depth knowledge of the Bible and, best of all, how to apply it to their lives
.
With the Bible Study Guide, students cover the entire Bible in 416 lessons, studying some Old Testament and new Testament each year. To see the order of study,
click here
. To better understand the whole Bible Study Guide curriculum,
click here
.
"
Bible Book Summary Cards
- Flash cards that help children learn about every book of the Bible. The front features a colorful picture with graphics that represent major points of the book and the back features a summary of the book and questions. These can be used with all ages. They are available in both black and white and color and
Cost $24.95

Cost $5.95 for a set of 26

Cost $5.95 for a set of 26
The Bentz Test Laboratory didn't have to fight over who got to do this review...they all got to! The beauty of
Bible Study Guide
is that it is for ALL ages! This is an ideal Bible study program for the large homeschooling family! We were sent the
Intermediate and Advanced
levels.
Primary level
is available as well (we'll be adding that!)
This program systematically studies the entire Bible - both Old and New Testaments each year. You do not study it from Genesis to Revelation, but rather - lessons are combined to present lessons including those from Jesus' life. It's a more balanced approach. A
Timeline
is available to help keep the chronology of the Bible visible to your students (we did not get this, but - it would be nice to have!) You can complete all 416 lessons over approximately 3 years.
This program will work with any version of the Bible. It really encourages the student to go straight to Scripture to complete the study pages.
The Intermediate study pages have:
"Remember It?" - questions from your daily Scripture reading text.

"Guess What" was one of our favorites - filled with facts, tidbits and illustrations that help reinforce the lesson.

"Maps" are included - we LOVE the maps

"Get Active" - suggestions to bring the learning off the page with hands on, games, and activities.

"Apply It" - gives some great discussion points, and makes the lesson relevant to real life.

"Discover the Bible" - is a visual lesson with diagrams, and ways to interact with the text, i.e. circling an answer, drawing an x, filling in an answer.
The Advanced study pages included Timeline work as well.
I was very impressed with this Bible curriculum. Not only can all my children work together, but this is designed to appeal to a wide variety of learning styles! It is extremely affordable as well. My children were able to work independently, or together in a group.
Since we didn't get the Primary pages, my younger children joined in with the Bible Book Summary Cards. These are large - 2-sided flashcards. The first side has pictures that represent themes from a particular book of the Bible. The back side gives basic information and answers the Who, What, Where, Why questions regarding that book. These would be a great Sunday School tool as well. We played "Guess which Book of the Bible" by shuffling the deck, and just showing the front of the card. I started giving clues from the back until they guessed it. They wanted to play it over and over (we made the game up...)
Don't neglect teaching your children basic Bible literacy (and making it fun). How can they begin to apply the Bible to live Godly lives, if they don't know what the Bible is telling them?
Bible Study Guide is a great way to start that process of learning in an organized, affordable and comprehensive way!