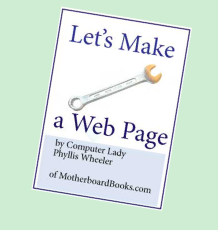 Let's Make a Web Page
by
Motherboard Books
From their website:
"
Let's Make a Web Page
is a 60-page e-book intended as a short-term homeschool project for kids 8 and up.
- Kids younger than 10 will need an adult alongside. No expertise required.
- Parents download a free trial version of CoffeeCup software.
- Software is compatible with Windows XP, Vista, and later (not Mac).
- Instructions for the parent include Internet safety and uploading to the Internet.
- Tone encourages experimenting and creativity."
Cost: $19.95
The Bentz Test Laboratory is excited to learn anything new that has to do with using and understanding technology. I bet your children are too!
We chose to create our web page together - my tester and I. The 10 Lessons of
Let's Make a Web Page
walked us through creating a web page start to finish. We began with an "interview". My son decided to do his interview with our missions pastor. (We are going to India this fall, and this is someone who planted the seed in my son!).
First, we had to install a free version of CoffeeCup Virtual Site Designer (a free online tool for web page design that writes the HTML code). Lesson by lesson - we added our text, photos, backgrounds, animations, sound and links. He loved adding the animations of spinning globes, and both of our blog links!

Phyllis Wheeler, the author - speaks directly to you in a very conversational tone. It was like having our own personal tutor. The final lesson included information on how to load your page to the internet (but, since we didn't want to pay for hosting... we opted not to upload our page) or to create your new web page as your "home page" - and it will pop up every time you open your browser!
The lessons were extremely easy to follow along. Screen shots are included, so that you can see exactly what to expect. Occasionally, we didn't see what we thought we would be seeing on our screen (but, that was due to CoffeeCup - and not the lesson). Internet safety is stressed throughout, and I would feel completely comfortable allowing my child to work through this independently.
This is a fast, and easy introduction to the web page world. I must admit, I learned quite a few things myself. It's affordable price makes is a must-have. Armed with some of the basics, my son is ready to explore the world of web pages - and is working on another one right now!
Other members of the TOS Review Crew looked at another
Motherboard Books
product called -
Logo Adventures
, you should check it out. For more resources, visit their
webpage
(tons of great suggestions there)
Click to read more reviews from the Schoolhouse Review Crew